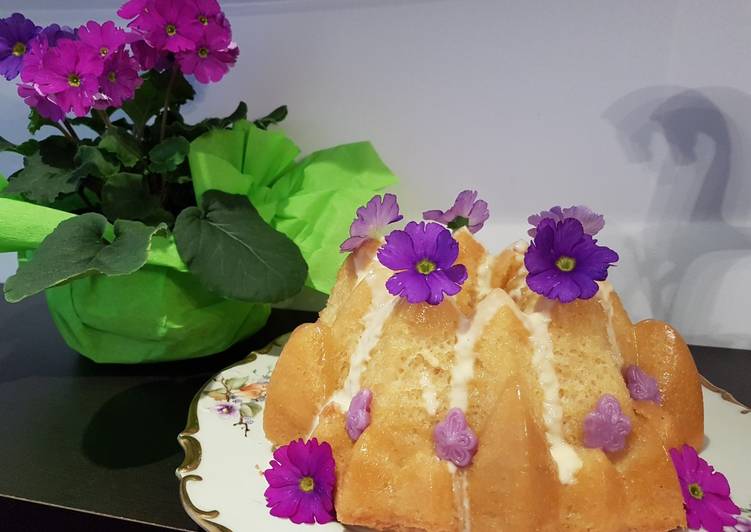 Violets Bundt Cake...de Violetas
#Bundtbakers This month of April our theme for cooking Bundt Cake are the * Flowers *
Y have chosen the Violets, the flower of Madrid ... the flower that has a Cuplé and Sarita Montiel will sing it forever ... do you want to taste it? You are invited to the taste of my city !!!
#Bundtbakers Este mes de abril nuestro tema para cocinar Bundt Cake son las *Flores*
He elegido las Violetas, la flor de Madrid... la flor que tiene un Cuplé y Sarita Montiel la cantara eternamente... os apetece probarla? Estais invitados al sabor de mi ciudad!!!
Decoramos, bañando nuestro maravilloso y aromatico Bundt cake con la salsa Inglesa y adornamos con caramelos de Violetas y flores naturales...(We decorate, bathing our wonderful and aromatic Bundt cake with the Vainilla sauce and we decorate with violet candies and natural flowers)

Realmente este sabor a Violetas es delicioso y nada común, que nos sorprende por su suavidad, os invito a hacerlo, seguro que disfrutareis de un bocado maravilloso!!! (Really this taste of Violets is delicious and nothing common, that surprises us by its softness, Y invite you to do it, surely you will enjoy a wonderful bite!!!)

#BundtBakers... Es una colaboracion magnifica que compartimos alrededor de los Bundt cake, Este mes la propuesta de @Wendy Klik es Flores...si quieres ver más recetas ricas puedes hacerlo aquí!!! (#BundtBakers... It's a great collaboration that we share around the Bundt Cake, This month the proposal of @Wendy Klik is Flowers... if you want to see more rich recipes you can do it here !!!
Añadir un paso
Ahora, ¡Envía una foto del plato terminado! A PATRICIA *Patyco.candybar* le encantará ver cómo quedó.