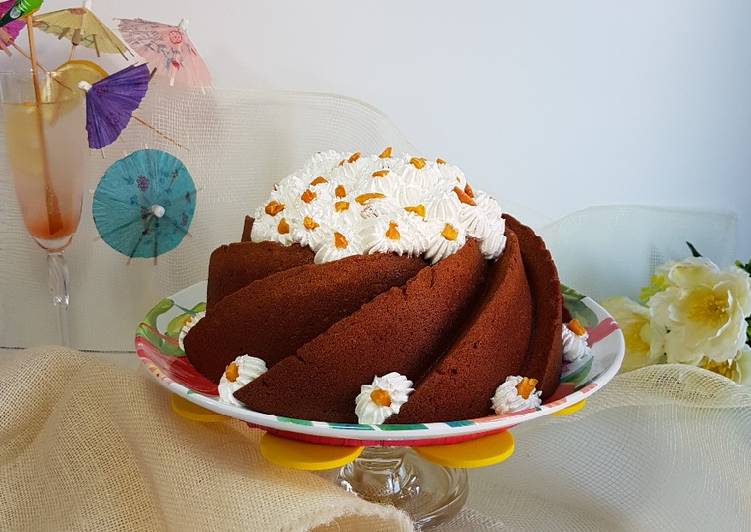 Mango Bellini Bundt Cake!!!
#Bundtbakers
Este mes nos vamos a los Bundtbakers -Tropical- de la mano de nuestra compañera @SandraGarth de @sweetsensations
Mango Bellini es un cóctel italiano creado en Venecia en 1934 por Giuseppe Cipriani.
Este Mango Bellini es dulce y picante con un toque tropical que te ayudara a desterrar esas melancolías invernales!
This month we go to the Bundtbakers -Tropical- by the hand of our partner @SandraGarth.
Mango Bellini is han Italian cocktail created in Venice in 1934 by Giuseppe Cipriani.
These Mango Bellinis are sweet and tangy with a tropical feel to help you banish those winter blues away!
Ahora añadimos los huevos de uno en uno y los vamos batiendo muy bien después de cada uno, bajamos la velocidad de la batidora y agregamos la harina, mezclamos solo hasta integrar... (Now add the eggs one at a time and let beating well after each got off the mixer speed and add the flour, mix just until blended)

Horneamos durante 60 minutos ó hasta que el palillo salga limpio, dejamos enfriar durante 15 minutos para desmoldar con cuidado y dejamos enfriar sobre una rejilla... (Bake for 60 minutes or until toothpick comes out clean, let col for 15 minutes to carefully unmold and let col on a rack)

Hawaiian Plantation Ice Tea Bundt Cake by :All That`s Left Are The Crumbs
- Painkiller Bundt Cake by: Patty`s Cake
- Coconut Mango Bundt by: Sweet Sensations
- Lime Coconut Bundt by: Food Lust People love
- Pineapple Coconut Bundt by: A Day in the Life on the Farm
- Mango Upside Down Cake by: Sneha`s Recipe
- Kumquat-Coconut with Tarragon Bundt Cake by: Katin Spajz
Añadir un paso
Ahora, ¡Envía una foto del plato terminado! A PATRICIA *Patyco.candybar* le encantará ver cómo quedó.