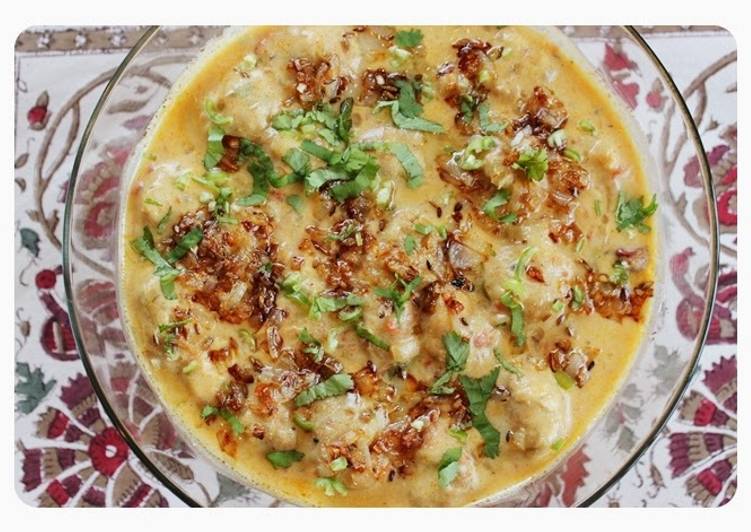 Karri Pakora
Karri is loved in almost every household in Pakistan. But the cooking procedure can intimidate even the seasoned and skilled cooks. I learnt it while watching my mother cook it in her kitchen. But my love for Karri goes back to my barri ammi's (Maternal Grandmother) cooking skill and generosity. In her house the rule was simple. Karri was never cooked in medium or moderate quantity. It was always cooked as if 30 people are coming over for dinner. Bari Ammi would send a bowl each to all her friends and relatives living close by. Hence her Karri was not just loved because it was delicious but because she would remember everyone around her while making karri. It is strange how such insignificant observations shape a young mind. What it did to me was that till date I have never cooked karri for myself alone. My Karri always has share for my friends. So cooking Karri is more like a religious ritual to me than cooking a slightly procedure intensive food.
This recipe was a challenge for me to compile as I am used to of cooking Karri in larger quantities. It took a bit of work to scale it down. Karri is a very simple dish to make. It has two layers of cooking procedure. The trick is to finish making gravy first and add the pakoras later. But the cooking preparation should be done before hand so there is not a long gap between cooking the gravy and adding pakoras to it. The reason: The curry gets thicker as it cools down; you need to ensure Pakoras are added before the gravy cools ...
Leave the pakoras in the gravy for 15-20 mins before dishing karri out. The pakoras will absorb the liquid from the gravy and will become soft. Dish it in a large bowl and do a tarka with onions, zeera and oil. Add fresh green chilies, mint and coriander to garnish. I love eating it with Boiled Basmati rice.
Add Step