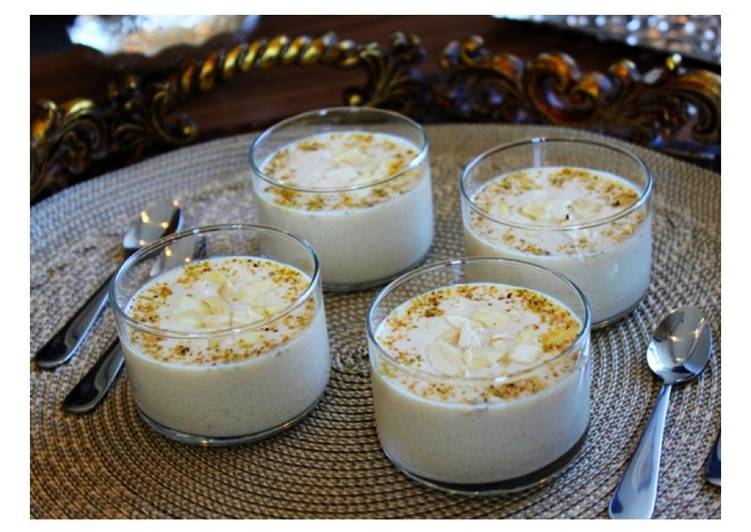 Firni - Pakistani Rice Pudding
Rice puddings are part of quite a few cuisines around the world. Be it Thailand, UK, Iran, Bangladesh, Norway, Egypt, Puerto Rico or Pakistan. Everyone has their own versions of rice puddings prepared with the local ingredients. Thais make theirs with coconut milk and serve it with mango, Iranians make it with saffron infused milk, Danish add butter and cinnamon to their rice pudding and serve it on Christmas eve the Egyptians make it with nutmeg and rosewater.
It seems all around the world including Pakistan, joyous occasions are celebrated with some version of rice pudding on the table. Pakistan has two variations of rice puddings. One is called Kheer which is heavy and creamy. The other one is called Firni which is lighter and thinner in texture.
Both types of rice puddings are cooked for the wedding feasts or for the festivals of Eid. Kheer is usually cooked in winters while firni is cooked during long summers and served cold in small earthen bowls called thootis. I have a preference for Firni and love to make it on the festivals of Eid.
Add Photo

Wash the basmati rice with cold water 3 times. Drain water and put the rice on a kitchen paper to dry. Leave them in sun for an hour or leave them overnight in the kitchen to dry completely. Then in a coffee or spice grinder, grind the rice along with 4 green cardamoms to tiny granules cum powder form.
Add Step