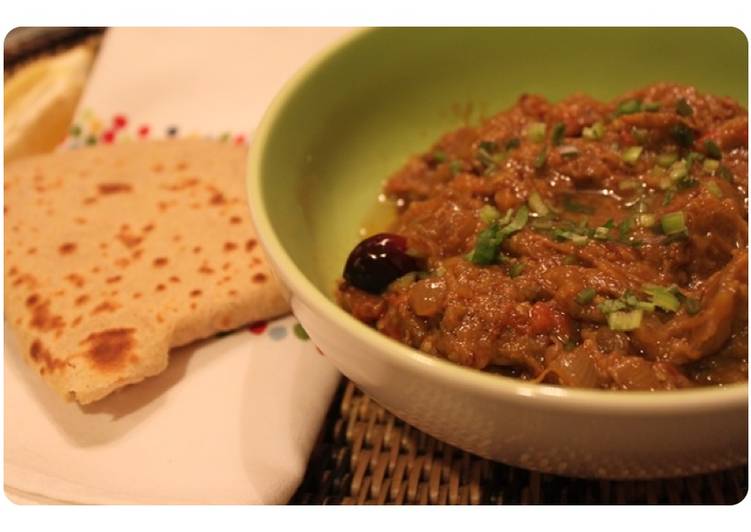 Baingan ka Bharta - Pakistani baba ganoush
In Pakistan aubergines - Baingan (in Urdu) are available only in peak summer season. May be thats why unconsciously i have always associated baingan bharta with Pakistan's peak summer. The word Bharta in Urdu means Mashed. Essentially roasted aubergines are mashed and spiced in this recipe. Bharta was served at lunch with hot chappati - flat bread and salty lassi drink which would automatically put you in a nap mood. The long summer days and intense heat in Pakistan would make everyone lazy and sleepy after lunch. A dark corner or an air conditioned room was all that one needed after lunch.
Ammi would slowly char the round purple aubergines on her gas stove over open flame. The whole house would smell of it. I roast the aubergines in my oven as i don't have an open flame stove. The result is pretty close to ammi's version except the intense smoky smell open flame charring adds to the vegetable. Here is to the memory of Long Pakistani summers, the open flame cooking, being home for lunch every day and afternoon naps in little cool corners.
Add Photo

Roast the whole aubergines in an oven for 45 mins at 180 degrees. Put them in water for 5 mins while hot. It will loosen the skin and make the flesh easily removable from the skin. Open the aubergine with your hand & scrap the pulp with a spoon. See the photos. Any Turkish grocer will have roasted aubergines sold in a bottle. You can use those as well.
Add Step