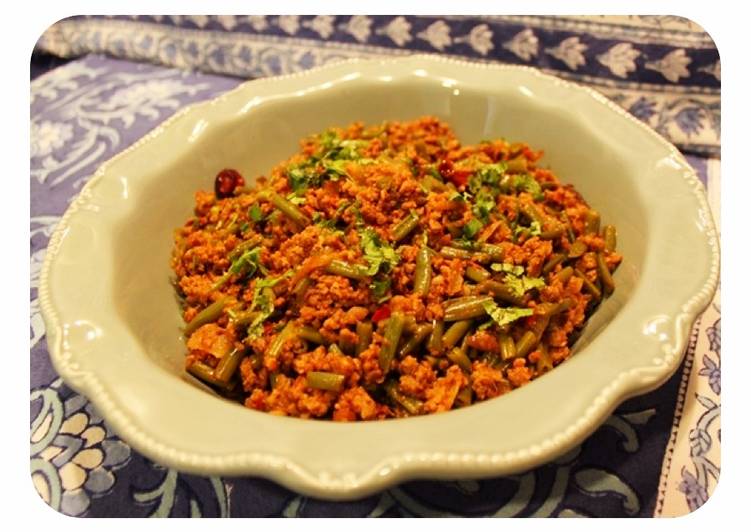 Farash Bean Qeema - Pakistani style Minced Meat & French Beans
Apologies for a month long radio silence. June was busy. 1st 10 days were unproductive due to a weird and stubborn strain of flu I had picked up. The later half had been busy due to the visit from my favorite people on planet earth. Oh the joys of sibling reunions. I do hope we get to use Star trek's "beam me up Scoty" teleporter transporter in our life times so atleast I could see my favorite people for tea & samosay every evening. Oh how much I wish! Anyhow…let's get to cooking.
As a teenager I hated French beans in any form what so ever. Somehow things changed post teens. I developed appreciation for many foods which I disliked as a teenager. I guess this is in some way what is called growing up! In Urdu language, French Green beans are called Farash Beans. Its availability is seasonal in Pakistan and one can find it easily as the autumn season begins around October. In my household it was cooked with minced meat or with potatoes and eaten with chappati. A squeeze of lemon adds magic to this dish. I remember having it for lunch after school as the days became shorter and the afternoons brought winds blowing yellow leaves from the trees announcing the arrival of autumn season. Quite a strange thing to remember!
Here is the recipe:
 
Add Photo

Add fresh tomato paste and half of the chopped green chilies. Mix and cook over medium heat. Add salt, chili powder, cumin powder & turmeric powder. Add ¼ cup of water to let the tomato puree and spices mix and cook completely. This will take around 10 minutes. The water should dry completely.

Add Photo

Once the minced meat is dry add frozen or fresh green beans. Mix thoroughly. Add ¼ cup of water. Once it starts simmering, reduce the heat to minimum and let it gently simmer for 20 minutes with the lid on. The french green beans I used had very small beans in the pod so the cooking time was less. If you are using the pods with bigger beans you would need more water and longer simmer time to ensure they are cooked through. Adjust according to the need.
Add Step