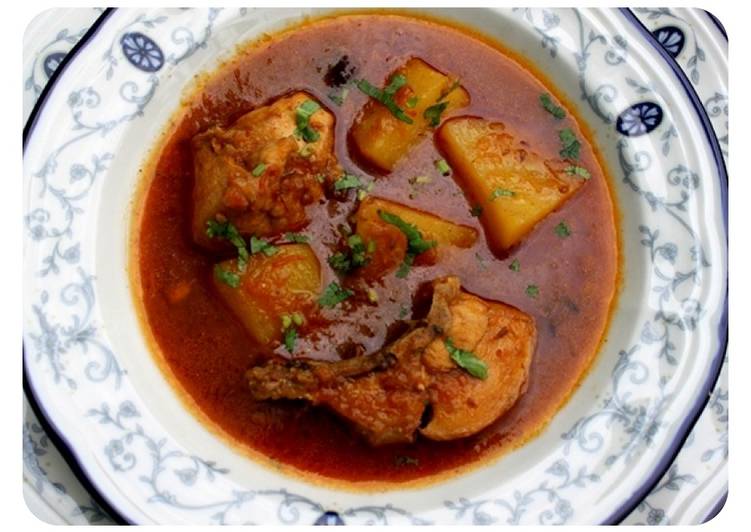 Kashmiri Chicken Curry
During the long summer school holidays in Pakistan, as we roamed around the beautiful Northern areas of Pakistan for summer vacations – Muzaffarabad – The capital of Pakistan's side of Kashmir would be one of the stops. Hotels were less in number in that area back then so the government guest houses were the place to stay on such trips. Regardless of which part of northern areas one went, the government guest houses would have one thing in common – A Kashmiri cook or Khansama as it's called in Pakistan. Those trips were the reason for my delicious encounters with Kashmiri chicken curry. The curry was eaten with equally divine steaming hot wood oven cooked tandoori rotis. One could smell pine trees in the rotis. For most of us who have had Kashmiri cooks at home, we have eaten Kashmiri chicken curry at homes many times. I learnt to make it from our Kashmiri cook as well.
I have often wondered why Kashmiri men were such good cooks. I haven't quite found the answer yet. The same Kashmiris from Mirpur who had gone to UK as labor in 1960-70s to fuel UK's textile revolution have ended up establishing UK's most famous desi food restaurants and Pakistani food franchises. I must also acknowledge that we Punjabis are utterly grateful to the Kashmiris for introducing us to the most amazing Shabdegh – Slow cooked sweet savory lamb turnip curry. This dish is cooked in a clay pot sealed with dough over low heat all night long. In the morning the meat is falling off the bone and melts...
Add 2 cups of water to the mixture. Mix and let it boil on a high heat. Once boiled, reduce the heat to a gentle simmer(cover the pan) and cook for 25 mins till potatoes are thoroughly cooked, curry has thickened and the oil starts floating on the top of the curry. If the curry has thickened too much for your taste then add ½ cup of hot water and let it simmer for 2-3 mins.
Add Step