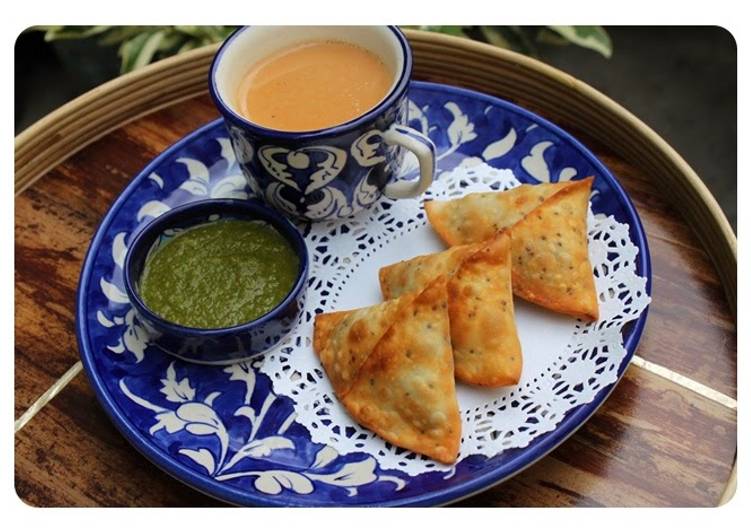 Potato Stuffed Samosas & Green Mango Chutney
Like the rest of the world, few foods are associated with certain events and seasons in Pakistan too. Such as Kashmiri Chai is an integral part of the food served during the wedding festivities in winter season, Gulab Jamans and Ladoos are served to celebrate joyous occasions, samosay and pakoras are served with fiery chutneys as the monsoon opens the heavens after hellish summers in Pakistan.
Our love for samosas just doesn't end with the celebration of monsoon rain but takes center stage during the month of fasting – Ramzan. No iftar table is without vegetable or minced meat samosas, served with various types of chutneys.
While growing up in Pakistan, I don't remember samosas were ever made at home. They were always bought from family's favorite Halwayee – Specialized sweet makers. I learnt how to make samosas after I moved to London as the local version could not satisfy my taste buds. Ammi would always buy the uncooked vegetable samosas from Sajid Sweets in Sadaar Rawalpindi and freeze them. They were fried before iftar at home and served with homemade mint, coriander yogurt chutney. I used to (and still do) make a concoction with ketchup and mint chutney which was not pleasant to look at but tasted great with a samosa coupled with a sweet cup of tea for iftar.
With Ramzan and Monsoon not very far away, I thought it's a good idea to share my version of the samosa recipe. I am planning to make a stock of these before the month of fasting begins end of June this year.
S...