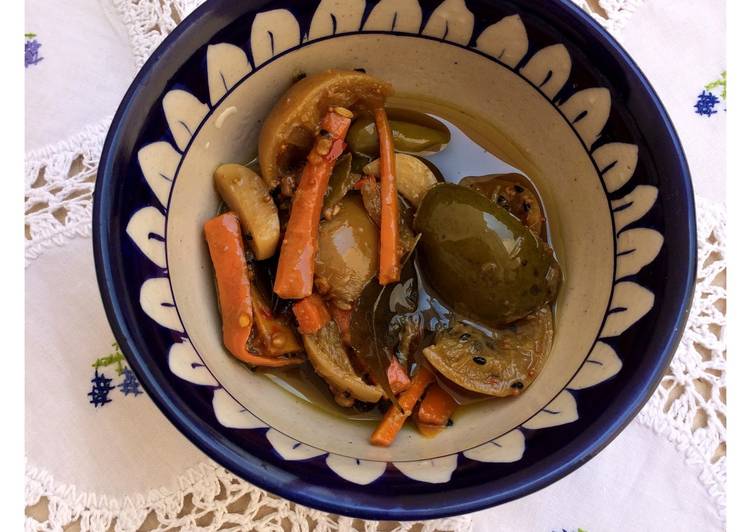 Pakistani Style Vegetable Pickle - Achaar
Before the arrival of mass produced - ready to use jams, pickles and chutneys, everything was prepared at home. In early eighties, my Nani- maternal grandmother prepared achaar - pickle, murabbay and Chutneys at home ritualistically. These homemade products were consumed around the year and the friends and family also had their share in the prized produce. This activity would take place during summer holidays when tons of extended family would be over.
Nani, her sister and sisters in law and other lady cousins visiting her, would divide the work of cleaning and chopping up tons of vegetables along with cleaning, roasting and grinding of sack load of the spices. Rock salt was bought and crushed at home in a gigantic brass pestle mortar called hammam dasta. Dried Haldi rhizomes/roots were crushed to make powder at home. Large Martabans – Clay pots were bought and seasoned for the pickling process. Fresh Mustard oil was ordered from nani's trusted Teli – the Oil maker. Mustard oil was prepared for use on an outdoor wood fire stove.
Pickling involved tons of work and working together allowed these ladies to bond and share their issues, stories and happy moments. During these moments Nani would find out the domestic issues and offer help, advice and intervention if needed. Nani being the oldest daughter in law kept her own and her husband's family together which was a rare trait of hers.
This year I decided to make nani's traditional pickle at home which was my first attempt of...
Add Photo

Pour the Mustard Oil in a deep sauce pan. Put 3 cloves of garlic with skin in the cold oil. Boil the oil at high heat for 15 mins. This is done to eliminate the natural bitterness and dense smell of the mustard oil. Ensure that the kitchen is well ventilated as you boil the oil. It will release tons of smoke and unpleasant smell so be prepared. It's a good idea to exit the kitchen as it boils and come in to switch off the stove. Light some extra candles in the kitchen as you undertake this ac...

Add Photo

Mix all the spices and spread evenly over the vegetables. Use a glazed clay dish or High grade plastic utensil for this activity. Grannies advise not to use any metal utensil in pickle making as the acid from the lemon can corrode the metal leading to pickle going black and bad in days ahead. I have used clay pots and a wooden spoon to do the mixing.
Add Step