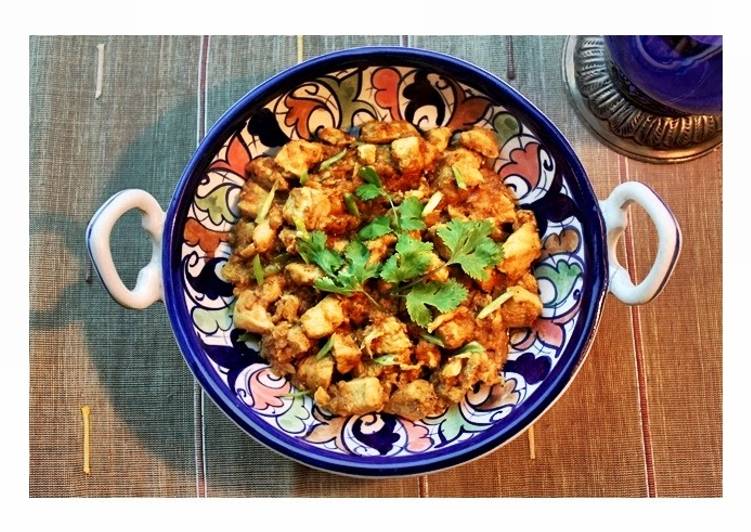 Chicken Haandi
My recent work trip to Pakistan took me to Multan (Located in the South of Province Punjab), a city I have only passed through as a kid while my father was posted at Bahawalpur many years ago. So I took this opportunity to go all touristy in Multan and did some serious sohan halwa, multani chappals, blue pottery shopping binging. What joy!
As a kid I remember our house always had a continuous supply of Multan's famous sohan halwa and Kushaab's dooda. It was regularly served with tea & shami kebabs to the guests visiting us. Somehow these two items were so much part of my childhood while growing up in Pakistan. Which explains why I bought a ton of sohan halwa from Multan. I also visited the shrines of Bahauddin Zakaria & Shah Rukhn- e – Alam and was in awe of the architectural marvels these shrines are despite their age. The city indeed was a pleasant surprise. I also ended up having the best ever Karahi at Ramada Multan. I am still in the process of reverse engineering it and will share the recipe if I succeed. I look forward to going back to Multan and enjoy some more sohan halwa in near future.
On my arrival at my base camp - Rawalpindi, my mother in law had prepared an incredibly delicious chicken Haandi for me. She was kind enough to show me this simple and delicious recipe in her kitchen. This dish is cooked in a traditional Pakistani clay pot called Haandi. This can be served with Chappati - Flat bread or Naan.
(I have not used clay haandi- traditional Pakis...