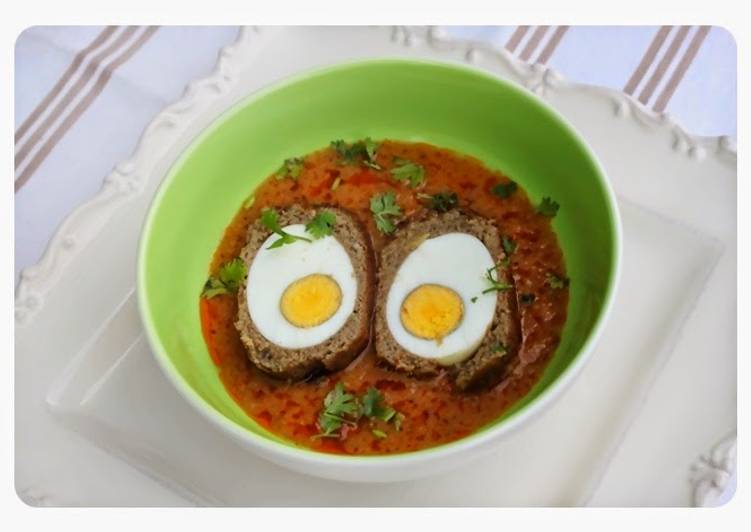 Nargisi Koftay - Pakistani Style Curried Scotch Eggs
Ramzan is finally over! Phew! We are celebrating Eid in far east on Monday. Fasting in peak summer is a real test of faith as well as of one's endurance. My inquisitive non-Muslim friends often ask me, how we Muslims survive the long testing hours of fasting without food and water and soaring temperatures? I am not sure they believe me when I tell them it's a mix of practice and unreserving faith that makes us get through very tough days of fasting and sleep deprivation.
Now that ramzan is over, it's that time of the year when we feast (read: over eat). Eid menus are planned out days ahead and tons of sweet and savory delicacies line up the dinner tables and tea trollies. At ammi's house, there was a bit of set menu for Eid ul Fitar. Breakfast will always have boiled vermicelli served with hot milk. Abbu liked having a bowl of it before heading for Eid namaz. Dessert will be either Sheer Khurma or a dense milky Kheer – rice pudding. Haleem is always a non-negotiable which is prepared a day ahead of Eid. The tea trolley will be decked with savory spicy channa chaat and some gulab jamans. All guests coming to the house will enjoy all of these things for 2-3 days of Eid, meaning ammi will prepare these things in large quantities. Fresh channa chaat will be made every day and will be served with lemonade or tea.
For Eid lunch, there would be a pulao, a kofta curry for sure and some special chicken dish of hers. I don't remember eating nargasi koftas at home a lot, but they w...