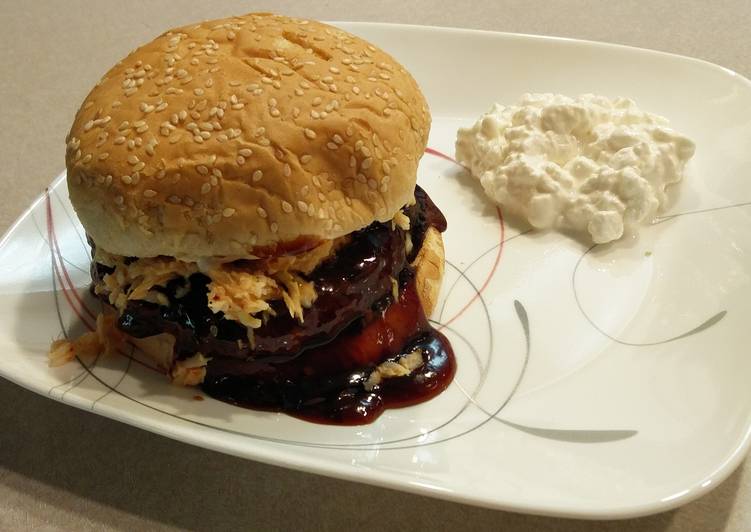 Korean BBQ Burger with Kimchi Slaw
This dish was prepared for the subreddit, /r/52weeksofcooking, where the theme was "Hit for the Cycle" which had to incorporate 4 consecutive themes from weeks passed. I went with Barbeque, Ground Meat, Fusion, and Concession Foods. To start of this post, I just want to say that I am very picky about Kimchi flavour, I either really like it or really do not, there is not in between. That being said, after I saw the ingredients in this, I decided that I had to have it and holy hell I am glad I did. Pictured is a full 1/3 lb (ish) burger and I can honestly say that I did not get to savor this because for something my body felt the need to put this in my face as fast as possible. Yes, this was that good. The only down side is that it is a bit messy and I think next time I make this (read: tomorrow), I will not dunk the meat in the BBQ and rather just brush on.
 
I used Ground Kanagroo but you could do pretty much any meat that you would make a burger with.
I also used Agave Nectar but you could substitute honey as well.
Also, this meal would greatly benefit from letting the meat sit, I just did not have the time. 
Add Photo

Start the BBQ sauce. Mince the Garlic and peel and grate the Ginger to get 1 teaspoon. Add 3/4 cup Soy Sauce, Brown Sugar, 1/4 cup Rice Vinegar, mince Garlic, 2 teaspoons Chili Garlic Sauce, 1 1/4 teaspoons Toasted Sesame Oil, grated Ginger, 1/2 teaspoon Ground Pepper, and Corn Starch to a small pot. Whisk to blend.
Add Step