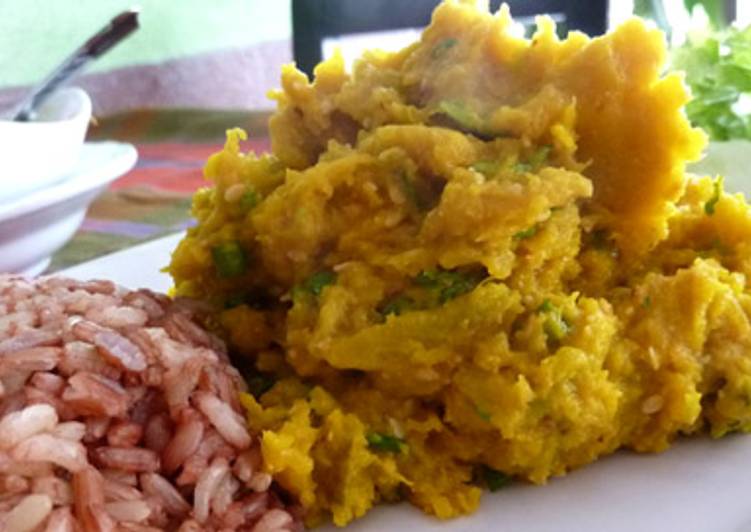 How to make May Kaidee's Pumpkin Hummus
The Queen of vegetarian Thai food, with fans in New York, started life as a street food vendor in Bangkok
A dancing girl in an traditional Thai headgear and a gold brocade costume comes tripping down the restaurant's stairs. Moving among empty tables, she finally brushes past me where I'm sitting, reaches out and says, "Come on, dance with me." But before I could work up an excuse, she has traipsed off again.
Weird, I thought. _A wired dancer at noon in an empty restaurant. _
It was my first time eating at the legendary May Kaidee vegetarian restaurant on Bangkok's Tanao Road. But the reason it was empty was that May Kaidee had been busy teaching Thai cooking to a bunch of tourists upstairs, which she does every weekend.
I'd been really hoping I'd bump into the woman who'd made her brand of vegetarian Thai cuisine an international phenomenon. Instead, I got a temple dancer.
It was only several months later, learning veggie Thai cooking at May Kaidee's famous Cooking Class myself, that I came to learn that the temple dancer had been none other than May Kaidee. Apparently, a good old-fashioned Thai dance was how she liked to end her famous classes.
And everyone had to join the dance.
May Kaidee's given name is Sommay Jaijong, and she was born poor, on a rice farm in Thailand's northeastern province of Si Sa Ket. Like other Thais, her cuisine included everything: rats, dogs, crickets, silkworms. Her favorite was snake curry.
School didn't suit her so she left for the big city...