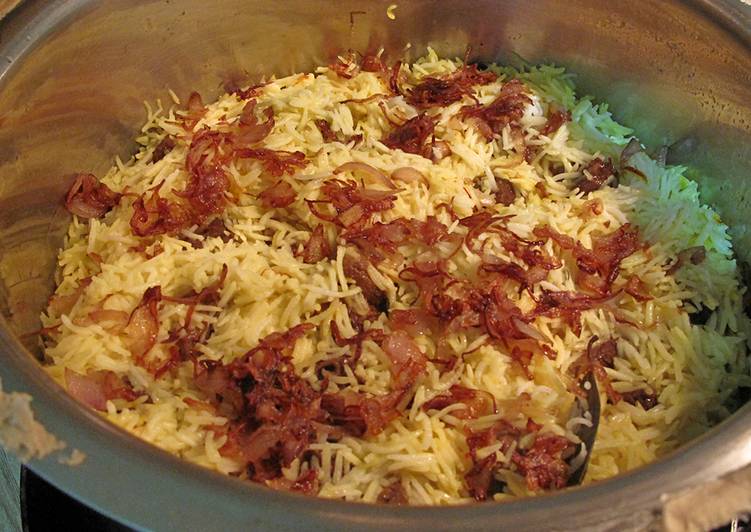 Dummed pukht!
In which I embark on a perilous journey to make a dum pukht biriyani
No man (or woman, at least those few who cook) in his right mind would dare consider making a dum pukht biriyani. It is well known, at least in places where such things are well known, that the dum cuisine of the long-ago Avadh kingdom of India was for the consumption of kings and nabobs, and that only genetically gifted royal chefs from Lucknow, known as khansamas, knew the secrets of getting it right. To make matters worse, exactly such a chef — the redoubtable Ishtiyaque Qureshi, fruit of the loins of the formidable Imtiaz Qureshi, the man who introduced dum cuisine to India — had made a true mutton dum pukht biriyani for me.
After I regained consciousness, I remembered the following things — subtle, subliminal fragrances had wafted like sirens from the rice; each grain was separate and moist, glistening; it had all been served with an amazing yoghurt raita, the likes of which I had never had before.
As I said, only a fool would undertake such an undertaking.
Call me a fool.
I have cooked it twice so far and — let me be blindingly honest — neither has matched the high bar that Ishtiyaque set for me. Let's say I've scored between 6 and 7 out of 10 — but dummed if it still wasn't the best biriyani I've ever had the honor to put together. Should you decide to follow in my calamitous footsteps, then here are some words from the wise —
1. Be sure to buy fresh mutton. In lamb-eating countries, such as Austr...
Add Photo

In 2 tablespoons ghee or olive oil, fry half the sliced onions to a nice golden color. Add the mutton pieces and the mutton spices you ground in step #1 above, the ginger-garlic extract and the powdered saffron, and fry until the mutton is slightly browned. Add the yoghurt, the chilly powder and salt to taste, and cook until the sauce has thickened a little.

Add Photo

In 1.5 tbsp of ghee or oliveoil, fry the rice till it becomes opaque. NOTE: Do not wash the rice first. Tie all the spices listed above for flavoring the rice into the muslin cloth, leaving out only the bay leaves. Immerse this in a large pot with about 12 cups of water and bring to the boil. Add the rice and let it cook till it is a little more than half cooked. This will be roughly when the rice has swollen up enough to be visible near the surface of the water.

Add Photo

Using your hands, spread ghee or olive oil along the sides and bottom of a large casserole. In this layer the rice and the cooked mutton in alternating layers. Be sure to combine the colored rice with the white. Pourany residual liquids (milk, water) into the casserole. The bottom and top layers should both be rice.
Add Step