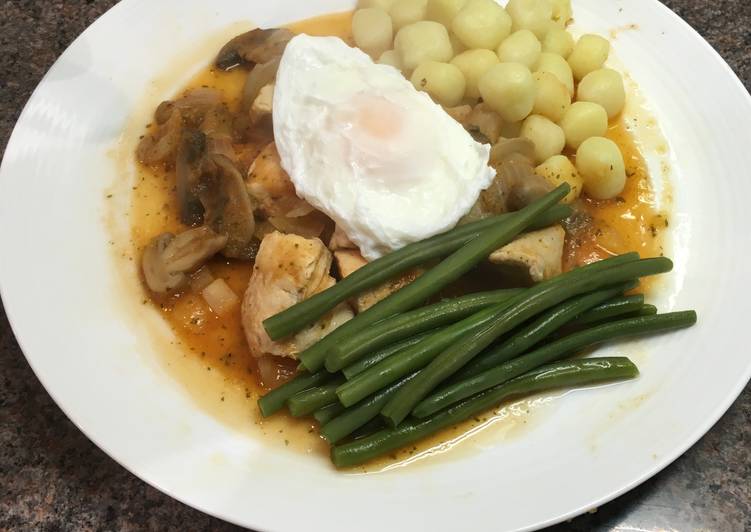 Chicken Marengo
Napoleon Bonaparte's lucky dish (read below). This version lucky for DIETers as it delivers 1½* portion of over5aday with just 350 per serving. This includes toast bit other carbohydrate may cost more calories howeveras shown with beans this adds ½ portion of over5aday and only another 20 cals per serving.
Counts as an Over5days recipe on the Pro52diet.
Pre-heat an oven (180oC / 350oF / Gas Mark 4). Microwave the onion for 3 minutes. Spray a wide lidded casserole with Spray2Cook and fry the chicken until browned. Add the microwaved onion, the liquor from the can of mushrooms, the pasata and herbs. Mix well and just bring to boil and then put the oven for 15 minutes.

Mix the ingredients for the sofritto adding a little water. Microwave for 4 minutes. Stir in a little more water then microwave for a further 4 minutes. Stir in still more water then microwave for another 4 minutes. Put the sofritto into a hand blender beaker and add sufficient boiling water to cover and permit blending. Blend thoroughly, remove the casserole and stir the blended vegetables through the contents. Add the mushrooms and put back in oven for a further 15 minutes.
Add Step