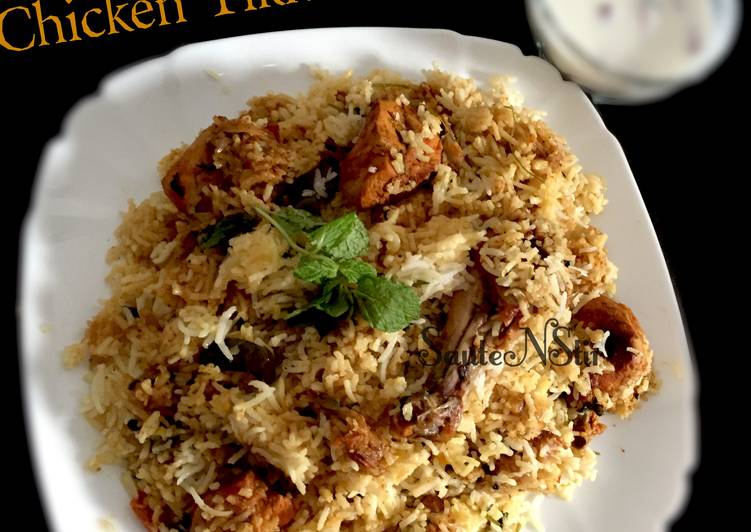 Chicken Tikka Biriyani
Good-bye to the scorching months, says Dubai as she is ready to welcome the festive season now. Here in Dubai this is the most wonderful climate anyone can experience before the winter. Also for us the Dubai  residents ,this is our "Barbecue season " too :)....
Last month with our family and friends we also planned for a barbecue night at a park in Sharjah..There were around 20 people , so the arrangements to be done for the barbecue were divided among each of us and my role was to marinate a portion of chicken for the grill.I bought around 3 kg chicken ,cut them into tikka like pieces and marinated them in the morning itself .Then packed it up well for the night and kept them inside the refrigerator.
But unfortunately we couldn't join our friends that night as something else came on our way and also couldn't give the chicken to them . So here at home we three --me,hubby and our son ,were left along with the 3 kg marinated chicken . I always love to cook and have fresh foods and will use leftover food only up to one day or  two.So freezing the cooked stuff for a whole week and reheating them to have them is not my way, as I have grown up seeing my mother  cooking daily fresh foods for us and also at my hubbys home it's the same .so i was wondering what will i do with this whole lotttt of chicken.
Thank God , that i marinated the chicken in a North Indian flavor, so I googled what all can i make with chicken tikka and "Chicken Tikka Biriyani" striked my eyes.  As i have alr...
For biriyani dum- Put half of the rice on top of the chicken tikka masala,sprinkle some ried onions and chopped coriander leaves,drizzle 1 tbspn ghee and saffron water.Add the remaining rice over it and add fried onions,coriander leaves, ghee and saffron as before.Cover the pot well and tight, then  keep it in low flame for about 20 mins.
Add Step