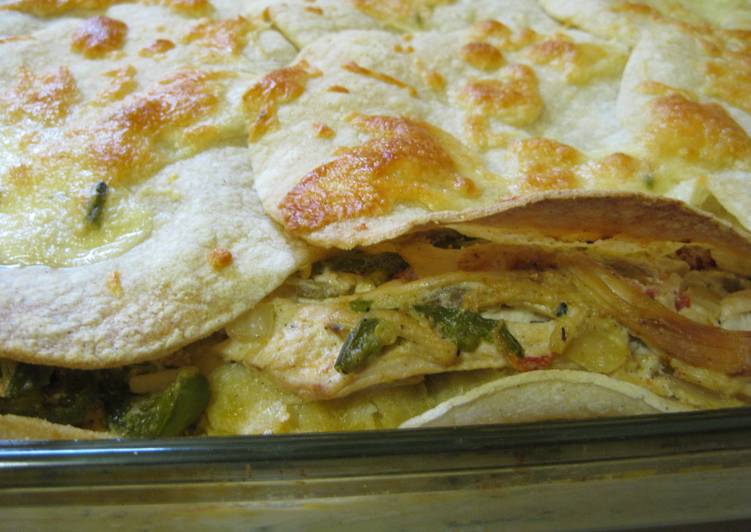 King Ranch Chicken
I have some philosophical issues concerning casseroles, at least where American home-cooking standbys like King Ranch Chicken are concerned.
Since these casseroles are supposed to be weeknight meals, I feel that they should require nothing more laborious than chopping up a few vegetables and pushing them around in a skillet before piling them into a baking dish. I definitely don't want to spend time on a sauce unless it's going to be the main event. Why fuss with a béchamel when peppers and tomatoes are going to overpower it?
But I'd rather not used canned soups. I don't mean to turn beloved comfort food into low-fat fare, but I don't like to buy ingredients I otherwise wouldn't be interested in for the sole purpose of a creamy binding. And anyway, why can't I put sour cream in everything?
I used pepper jack cheese instead of the traditional cheddar, here, only because we had a block of it sitting in the fridge. I enjoyed the extra kick it imparted. Unfortunately, I didn't manage to get two full cups' worth of grated cheese out of it, which is why the topping is tragically lacking. Please don't skimp on cheese when you make this, and use whatever kind you like, provided it melts well.
Add Photo

Sauté onion and jalapenos in oil until they begin to soften, seasoning with salt and pepper. Add garlic and sauté until fragrant, then stir in the chicken and canned tomatoes and chiles. Add the sour cream, broth, and hot sauce. Cook, stirring constantly, until the sour cream and broth are combined and coat all the other ingredients in a cohesive sauce.
Add Step