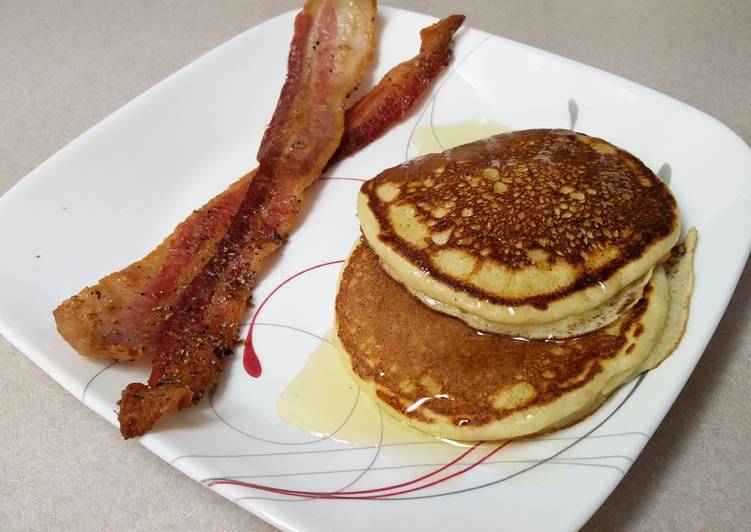 Ricotta Pancakes
This morning I woke up and could not think of what to make for breakfast and realised that I pretty much only had ingredients for pancakes. Then I remembered that I still had some ricotta from the meatballs I made last week. I've put different things in pancakes (I love pancakes) but never ricotta. That being said, whenever I buy ricotta, I will always buy extra to save for pancakes. These were delicious! The ricotta does not really give them a cheesy flavour but rather more of a creamy texture. They were very fluffy and the inside basically just melted in your mouth.
My go to topping for pancakes is usually Agave Nectar but you could easily use whatever you want. I think next time I want to try lemon curd because I have been seriously craving it for a couple weeks.
Also, usually I add a little beer (usually cheap lager) or champagne (when making mimosa) to make the pancakes fluffier but I wanted to try it without this time. These were plenty fluffy might try next time.
My cast iron griddle is a long one that goes across 2 burners so I was able to cook 2 pancakes at once, your cooking time may vary if you can only cook 1 at a time.
Add Photo

Test the griddle to see if the temperature is right. Drop a few drops of cold water in the middle of the griddle, if the water bounces and sputters, the temperature is right. If the water just sits and boils, the temperature is is too cold and if the water water evaporates immediately, the temperature is too hot. Adjust the burner if needed.

Add Photo

Using a measuring cup, drop 1/3 of a cup of pancake butter on the hot griddle. Cook the pancakes until the bottom is golden and bubbles are starting to pop through (about 3 - 4 minutes). Flip the pancakes and cook until the other side is golden (about 2 - 3 minutes). Repeat until all the batter is used up.
Add Step