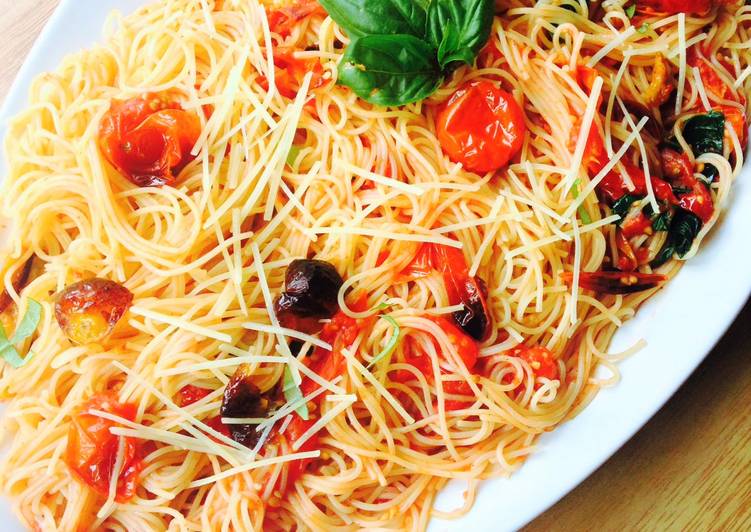 Cherry Tomato & Basil Angel Hair Pasta
I have this veggie patch that I have been working on for over 5 or 6mos. I have mint, coriander, parsley, basil, lettuce, cherry tomatoes, strawberry and a few other things ... My basil has been growing really well and I had to make use of it before it went waste. My cherry tomato plant has been such an amazing plant with all of its delicious tomatoes over the last few mos. I loved including it in my salads and cooking. I had some this time (included in the picture below) but it wasn't enough to make this dish so I used some store bought tomatoes too ... Basil and Tomatoes are a great combo so that's how this dish came about...
If you have a garden at home, I would highly recommend growing some herbs and veggies - it's therapeutic, your kids will enjoy watching them grow :) and honestly it's always fun walking out to your garden and snipping off some herbs for your cooking! soooo good!!!
Pasta dishes are always delicious and very filling. I always have a pasta dish included in my weekly menu plan cause my 4 year old loves it and gobbles it down so fast! I also know she will be full if there is pasta on the menu... She loves spaghetti, but I opted to go with Angel hair that is thinner than spaghetti.. it practically slides down in your mouth!
So this dish can be eaten just as, or you can do what I did - I served it along with some chicken. This is a quick and easy pasta idea to have in your go-to menu list.
Add Photo

Now it's time to assemble this dish: Return the pasta along with the basil to the pot. Drizzle 2 tbsp olive oil. Add the roasted tomato and garlic from the oven. Season with salt and pepper again if needed. Use the reserved basil water to loosen up the pasta. You might not need it all, I used some to help the pasta not go all dry.
Add Step