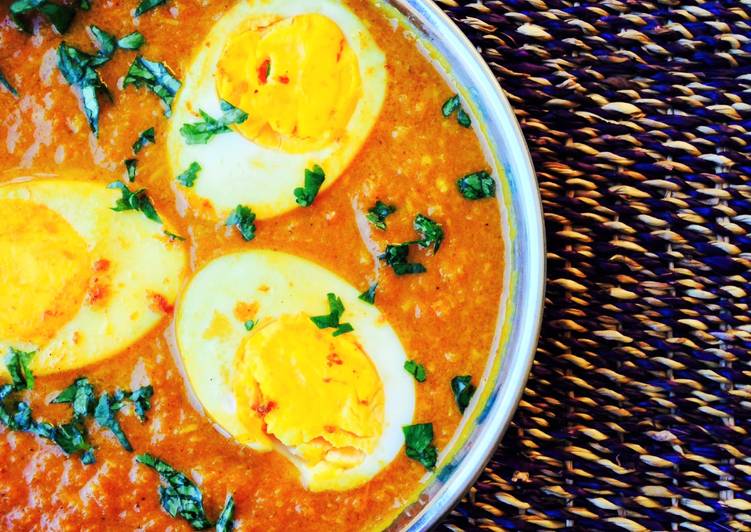 Kolhapuri Egg Curry
As we move into winter here in New Zealand, I always love to have a little list of curries that I can make in the upcoming months. I don't prefer repeating the same old ones so instead of the usual egg recipe I decided to make kolhapuri style (like the kolhapuri chicken curry that I shared on here a couple of weeks ago). There is nothing very different in this curry, I love the aspect of blending all the ingredients and making a nice thick creamy sauce in which the eggs sit on ... It does involve a few steps but doesn't include any fancy unheard-of ingredients so if you aren't a pro in the kitchen you can still make this one.
This curry goes really well with rice and roti. It has a little spice kick to it so it may not be super child friendly but if you adjusted the chili a bit it might be ok for your little one. Alternatively as you will read below, we puree the sauce along with the chilies, by pulling them out before processing it in the processor you will definitely bring down the heat.
This is a vegeterian and gluten free recipe, so a great recipe idea for my GF readers.Pull our your food processor for this one, we will need it :)
On to the recipe ...
Add Photo

At this stage you should have the eggs boiled and sliced in half. Before returning the currry to the pot, I added some oil to the pot and laid the eggs face down on the pot. I had the heat on low. I basically wanted it to brown a bit and in the process it gets a bit of the spice flavour. It took only a couple of minutes, so don't leave it there for like 10-15. Set aside once it browns a bit.
Add Step