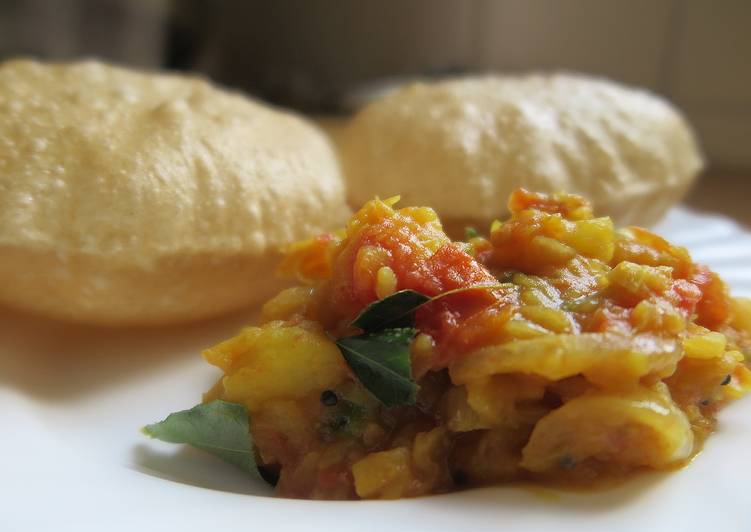 The spud and the dud
They're a historic pair, the potato and the puri. If only they'd learn to get along better
"You're a nothing!" said the potato to the puri. "A cipher."
The puri sank a little lower into his plate, and a little steam escaped from a crack.
You've seen the puri — or maybe not. Imagine a tortilla rolled really thin and fried till it puffs up like a soccer ball. It's a staple of Indian cooking, though laid low in recent times by rising cholesterol-consciousness. The quickest meal at any Indian eaterie is hot puri with a dish conjured up with potatoes, alu bhaji.
This was certainly not the first time the crude thought had been put to the puri that he had a serious personality defect. And as usual, the remark came again from his constant companion, the insufferable boiled potato.
But it was true. The puri was almost unbearably fat. Just a few minutes in the heat had done it to to him: turned him a warm golden brown. A clear liquid, definitely oil, dripped off his sides and gathered in a pool. You felt like poking a finger into him, and allowing the pent-up stuff to escape. With a hiss.
"It is my deeply held belief that you are the ugliest and most arrogant thing that ever grew under the mud," spat out the puri, with whatever dignity he could muster. It is not easy to look respectable while steam is escaping from a crack in your hull.
The puri and the potato are (appearances to the contrary) actually old friends locked in a complex relationship, which works sometimes and fails at ...