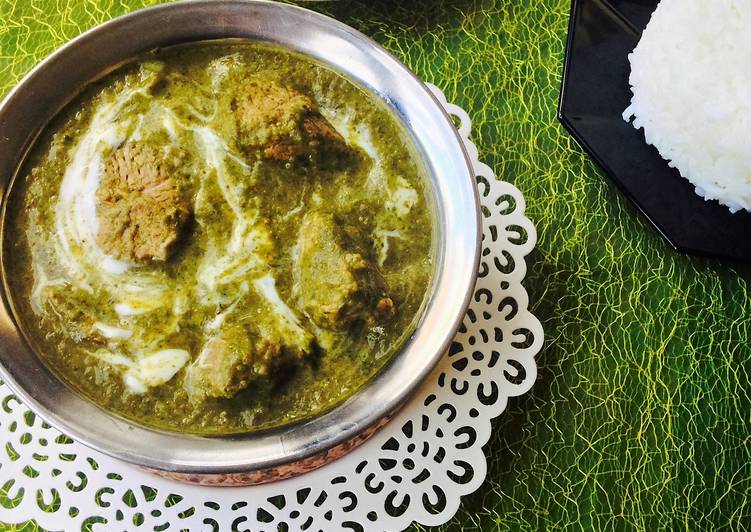 Lamb Saagwala
I have been in the mission of trying out restaurant style Indian curries lately. If I decide to make Indian, I try to make something you would find on a menu in an Indian restaurant. I am doing it just to see how hard it is to make these delicious restaurant style curries ... the truth is, its actually not very complicated! So before you go out and buy the curry sauce to make a restaurant style Indian curry recipe, I highly recommend doing some research :) You will be able to make it at home with less amount of sugar and fat ..... So .. Lamb saagwala ... here is another recipe to use up frozen spinach if you over buy spinach like I have recently LOL! My other recipe to use up frozen spinach is Saag Paneer (click here to read that recipe...)
This recipe is a nice one to have in your curry recipe database! It's perfect for a family meal or when you have friends over. The lamb is tenderised by using a pressure cooker (so I hope you have one of those in your kitchen!). I found it was mildly spiced and extremely fragrant ... its just a little difficult if your kids don't like green food - my 4 year old wasn't very sure about dipping her piece of roti in this curry hahha ...
But all jokes aside, this is a delicious lamb & spinach curry. When you serve it with some rice and roti/naan, its just epic!
Add Photo

We begin by cooking the diced lamb in the pressure cooker. Melt a tbsp of ghee in a pressure cooker and add the diced lamb. Once it browns up, add a pinch of turmeric powder and about a cup of water (or more depending on how much meat you have) and pressure cook it for about 8 whistles. Once its done, keep the lamb pieces aside and save the water it was cooked in for later.

Add Photo

Add the diced tomatoes. Cover with a lid and let it cook on medium low heat. Once the tomatoes break down and soften a bit, add the spinach. After the spinach wilts and cooks through, transfer to a blender and puree it to a smooth consistency. You can use the water the lamb was cooked in, to loosen up the mixture if needed. Be careful that you don't burn yourself in this process!
Add Step