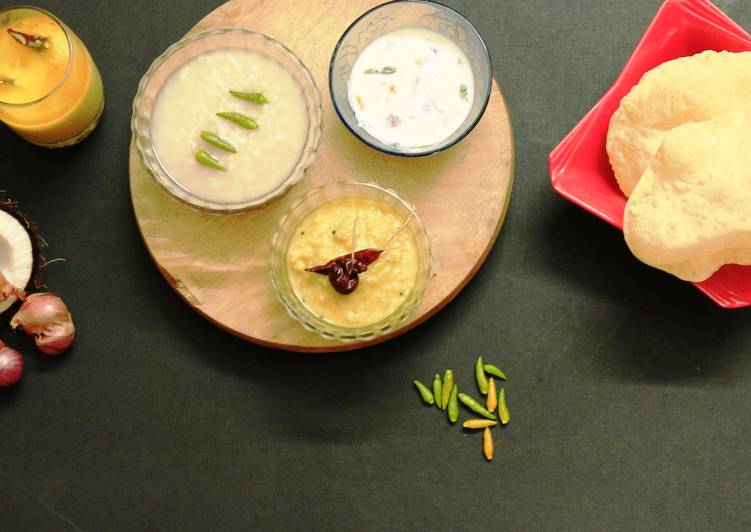 Homely to the core, chena asthram (elephant foot yam in coconut base)
'Asthram' in many Indian languages literally means weapon. I've often wondered why food would be called a weapon? My logical conclusion was that -it must be some really good food which would be an armour to keep your body healthy. Well, my interpretation proves perfect in the case of elephant foot yam. This is definitely a wonder vegetable. It has everything you need, from protein to carbs to fiber. It is said to have medicinal benefits like controlling blood sugar and bad cholesterol levels, settling digestive issues and even protecting you against cancer. Wow ! So, that can only mean we need to include yam in our diet more often.
During our childhood, I used to look forward to the saturday morning breakfast - the fixed menu was the simplest malayali food ,kanji (rice porridge/gruel). What makes it more special were the sides mummy would alternate -green gram/ red gram stir fry with grated coconut (cherupayar /vanpayar) and the variety of asthrams (chena-elephant foot yam,chembu-colocasia, kannan chembu-taro root, kaachil-purple yam). Asthrams are a classic in kerala naadan a.k.a village cuisine. It has many versions, each home cook will have a secret recipe to it I suppose :) Here, I am sharing my mom's very basic and easy , yet yummy to your tummy recipe -which you will fall in love with. Cooking this took me back to times, and this is some food that makes me happy. See how you like it .
Get your hero ingredient ready -Remove the skin of the yam with a peeler or a knife and cut it into big pieces (shape does not matter now). After you're done, clean them in water. Tip :Uncooked yam gets itchy when in contact with water. But you gotta clean it really well. So, the best way is to run it under water in a sieved vessel. If you don't have this, clean it in a container, changing water a few times. Use a spatula to rinse, so that your hands don't itch at all.

Pressure cook the yam pieces in water with salt, turmeric and slit green chilis for about 4-5 whistles. The cooking time may slightly vary depending on the yam, but it needs to cook really well. Tip : Worry about under cooking, not over cooking because you're gonna mash it anyway.Add water, just enough to cover it-you don't want it to be runny, it should be a thick gravy.

Now for the last touch, heat the coconut oil in a pan and splutter the mustard seeds. Once they crackle, add in curry leaves, chopped shallots with a dash of red chilli powder-get them all charred.Pour this seasoning into the yam gravy, mix and serve hot. Goes best with kanji. You can dilute this with some water and use it as a curry for rice too.
Add Step