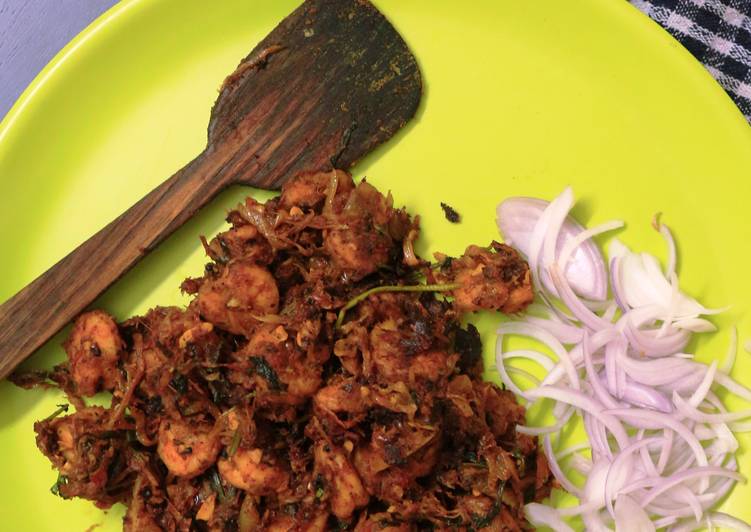 Prawns Flavorsome in not so restaurant style
Internet will give you umpteen prawn recipes ,but most of them are either restaurant style or the very authentic recipes. To get a very Indian, not jazzy yet yummy prawns masala that will give you that joy of home cooked food, the best thing to do is try your own basic chicken curry recipe on prawns ! When I first cooked prawns, I had to do this since I didn't really know any prawn recipe and that's how I found this trick out. Since then, this has been my trump card if I have to impress someone over a dinner ;) My mom used to pan fry leftover chicken curry and pack for our lunch-we used to love the taste of that charred, rather slightly burnt gravy turned masala. So I'm using that secret in this dish too. Deep frying with a batter coating gives you a lovely crust, but it leaves the inside quite plain. Whereas reducing a cooked gravy and pan frying it gives you a heavenly masala that's packed with some awesome flavors. It give it a different feel altogether, especially for the masaledaar people out there :) The best thing about this recipe is that it's not difficult at all and the ingredients are all staples you'll always have at home and most of all, it has that very homely thingy to it.
Time to get our prawns in and mix it all well before adding some water. Do not be stingy on water, it should cover the prawns well. (Tip: It's about cooking the whole thing with enough water and then drying it all out which gives that extra edge to this food.) Throw in the chopped coriander leaves too, and the lime juice. Once it boils, close the lid and cook on medium flame for about 3-5 minutes.

If you want a curry, you can stop here, open,add any additional salt if required and relish. For others, now its all about reducing the gravy,pan frying and making it a dry and charred masaledaar dish. Run through the pics and you may stop at whichever you like. I like to go the extra mile and enjoy watching the curry bubble away and drying out all that gravy. Then with a slight guilty feeling, splash a teaspoon or two of oil in and pan fry on a high flame till I see some black in there.Ser...
Add Step