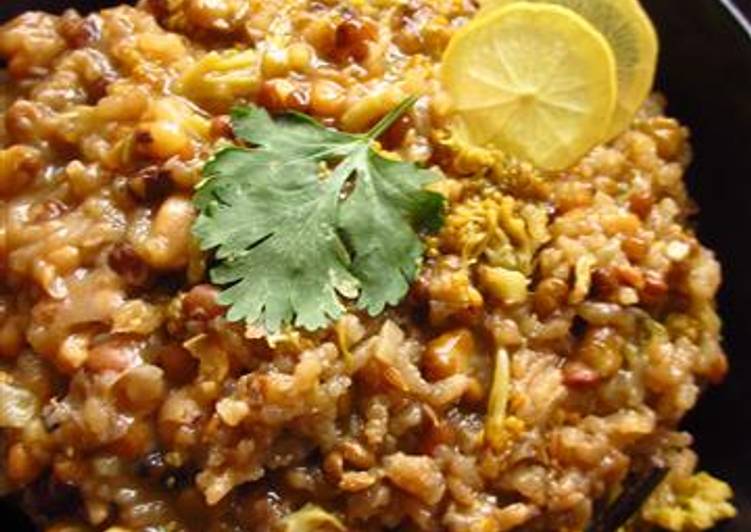 Mixed Lentils Khichadi - One Pot Meal
Every now and then (read once in 2-3 months) I open all my cupboards, rummage through my storage boxes to check my kitchen inventory. I often come across lentil/ dal packets which are about to get over. The quantity remaining is just about enough for one person, I can barely whip up something substantial out of it; may be except for some veggie-lentils soup.
After being a home-maker for some time now, I found this sure shot way of using up all those small quantities to make a comforting bowl of protein packed khichadi. It's a simple hassle free one-pot meal which I am sure you and your family will love.
I had a huge broccoli head lying in the fridge which found its way into this khichadi, trust me my better half dint even notice it. If you don't like broccoli, add any other veggie to suit your taste. Anyway you make it, this combination ends up making you feel good!
Add Photo

After 2 hours, drain the lentils; wash rice under running water, drain and set aside. Now take a heavy bottom pan or pressure cooker (you can cook this khichadi directly in the pressure cooker) once the pan or cooker is hot add clarifies butter, add to it asafoetida, cumin, minced garlic, bay leaf, cinnamon, black cardamom and sauté for a min.
Add Step