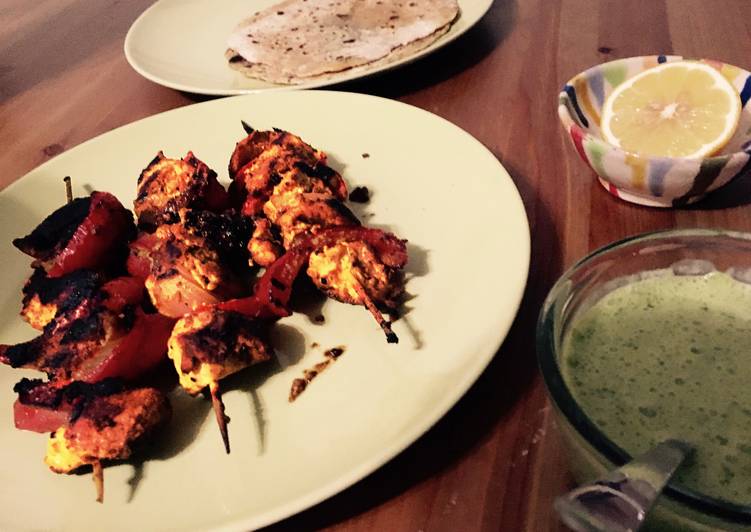 Chicken Tikka (dry)
Chicken Tikka is a traditional and very popular Indian Chicken dish which is bursting full of flavor & color and one of the most popular chicken starters/ appetizers from Indian Cuisine.
Cooking in a tandoor(clay oven) is particularly associated with the cuisine of the northwestern region of India, where the heat of the oven is used to prepare not just chicken, but also grilled mutton kebabs and of course wonderful breads.
The bright red with which we associate the dish originally came from the use of red Kashmiri chilies, which add as much color to a dish as they do heat. Use the natural effect of red chilli powder, paprika and turmeric for the chicken to get its full flavor and color. To get a beautiful golden/reddish color, and of course avoid additional food coloring.
It is unlikely that you have a tandoor oven?! But that doesn't mean that you can't enjoy your favorite dish at home! As an alternative to using a tandoor oven or barbecue grill, a home oven is just as good! Preheat oven to 180 degrees, skew marinated chicken and quickly pan-fry both sides, then line them up on an oven tray and grill for another 20 minutes. Your good to go! This is an easy-to-cook dish.
The perfect accompaniment is a yummy Raita yogurt, with mint and cucumber, or even just a simple salad of thinly sliced red onions and tomatoes dressed with a little lemon juice.
This Chicken Tikka can also be made into a tasty gravy masala dish. Check out the recipe for Chicken Tikka masala.
Add Photo

For the second marinade, take a bowl and add yoghurt. Mix in the fried ajwain-/ Thymol seeds and flour. Then add kashmiri red chilly powder, ginger garlic paste, salt, turmeric pwd and garam masala pwd. whisk thoroughly the yoghurt mixture with a beater until it turns to smooth paste. Add 1 to 2 tbsp of cooking oil to it and combine. Add the marinated chicken pieces to the mixture and keep in fridge for another 2-3 hours. Or if you can best overnight.
Add Step