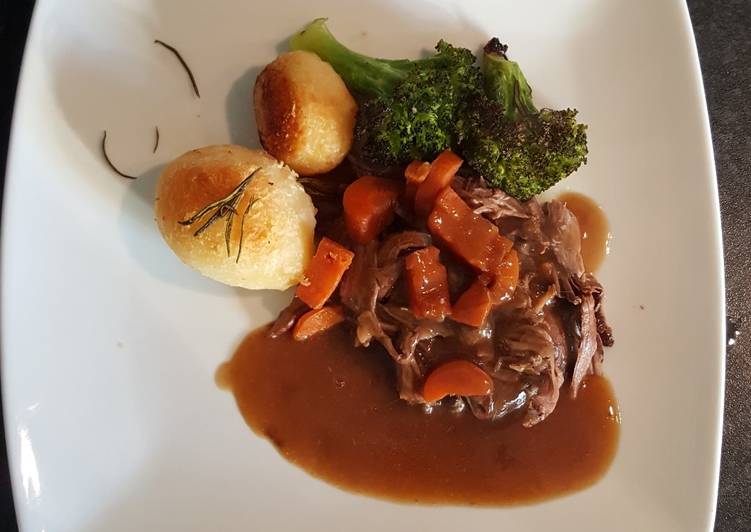 Slow Cooked Shredded Beef. Roast Spuds and Roasted Broccoli
My wife and I like to go out on a Sunday but we also like to stay home and have a hearty Sunday lunch. I have found a couple of ways of doing just that. This is one of them.
The preparation time is about half an hour before you go out and the meal will be ready 1 hour after you get back home.
Here is how to make a slow cooked Sunday dinner while still enjoying a day out.
The piece of beef was MAHOOSIVE and far too big for just the two of us for one meal so I used the left overs for salads on Monday and beefy soup on Tuesday.
Start off with a lovely piece of beef. This is a piece of chuck steak. Like I said it was too big but we put the leftovers to good use. Put some oil in a frying pan and give the meat a really good browning on all sides. Don't be half hearted here. Use a really high heat and get it a nice dark brown on all sides. This change of colour imparts a really nice flavour. You don't want to burn it of course but a nice dark colour is OK. Once this is done plonk it into your pre- warmed slow cooker

After the potatoes have been cooking for half an hour take them out and turn them over. Add the part cooked broccoli and put back in the oven. I like to sprinkle some chilli flakes on the broccoli at the point but you don't have too. Cook this for another 30 minutes and they should be ready to serve. If you want you can now take some rosemary leaves and toss them in olive oil. Sprinkle these on the potatoes. The will go crunchy and impart a lovely flavour onto the potatoes.
Add Step