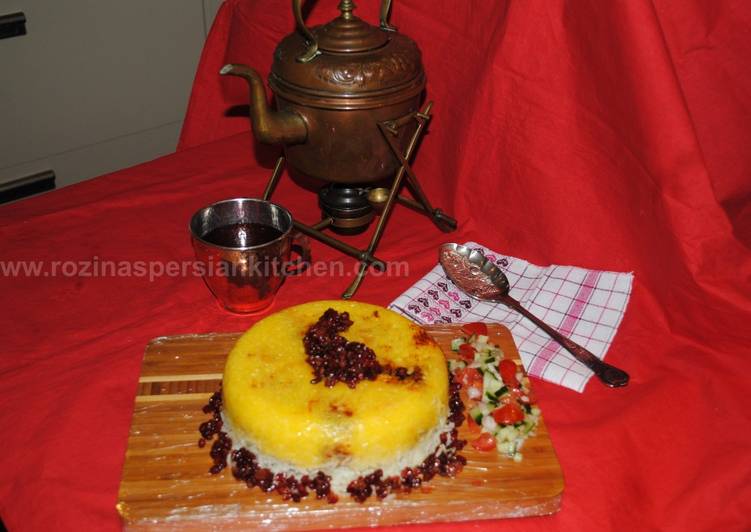 Persian upside down rice (Tahchin-e Morgh)
#Persian upside down saffron rice is a scrumptious rice dish with a beautiful presentation. Tahchin means arranged in the bottom. This dish known as #Persian baked rice cake as well.
Tahchin is one of the luxurious and ceremonial rice dishes. IF YOU TASTE TAHCHIN, IT WILL CAPTURE YOUR HEARTS :)
Tahchin includes egg yolks, marinated chicken, beef or lamb with yogurt, rice, Persian Saffron king of spices, dried rose petals…
There are different types of tahchin, for instant: Shirazi aubergin -chicken tahchin, Spinach-chicken tahchin, …..
My recipe is from my mother and she has learned from my grand mother. This recipe for my tahchin is different from the recipes that mix all rice with yogurt and saffron. As you will observe in my recipe only bottom layer is mixed with saffron and middle layer is covered with marinated chicken and final third layer would be plain white rice.
Tahchin might be cooked either in the oven or in an pan. Result in top layer is sooooooooooooo yummy- crunchy part ( tahdig), Second layer is meat and third layer is fluffy rice.
For tahchin we need Greek yogurt. But I have made my own Greek yogurt with traditional method, as you would see in the following photos.
So let get started :)