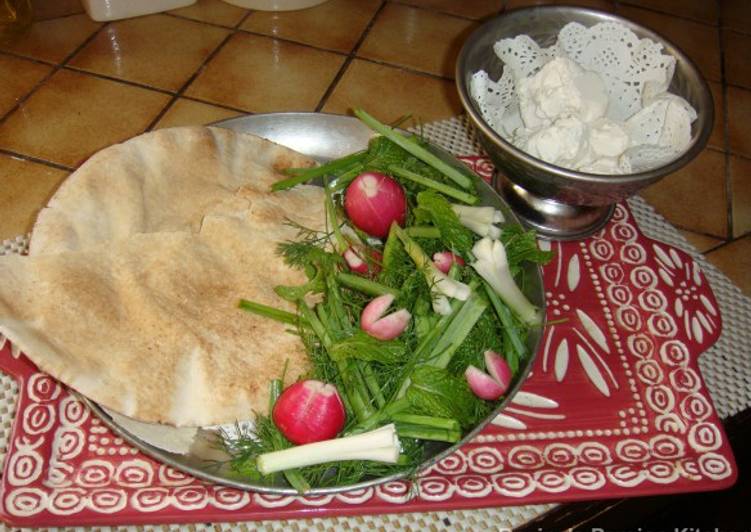 Traditional Herb salad with bread and cheese OR Sabzi Khordan سبزی خوردن با نان و پنیر
In #Persian food table you will always have vegetable or herbs salad in summer time and different types of pickles in winter season.
#Persian salads are made of fresh fruits or vegetables that usually housewives are buying straightly fresh from vegetable grocery.
In my country when we buy herbs, it is always selling in big bunches of very fresh herbs ( #Sabzi khordan) . Popular herbs or Sabzi khordan in our Persian table includes: #chives تره, #radishتربجه. #scallion پیازچه. #mint نعنا, #dill شوید, #basil ریحان. #parsley جعفری, #coriander گشنیز, #tarragon ترخون, and #watercress شاهی.
When it comes to serve, we use different types of Persian breads such as Lavash, #Barbary or #Taftun naan bread that is very similar to pita bread and i have shared my recipe for making #pita bread here in cookpad.
You need to pick herbs from stalks and then put them in a big bowl of cold water and let soak for 10 minutes and then drain in a colander. You can keep them fresh for few days in the fridge by wrapping herbs in a cotton towel. Here is a photo of a grocery shop in Tehran with massive amount of many types of fresh herbs.

You can serve these beautiful green and aromatic herbs in a basket or platter. You can have all these herbs or just get herbs you fancy, I am sure once you eat, you will not stop and eat more and more specially when you serve herbs with warm and fresh breads and feta cheese :).
These herbs are enough flavoured that no need to any dressing.
Add Step