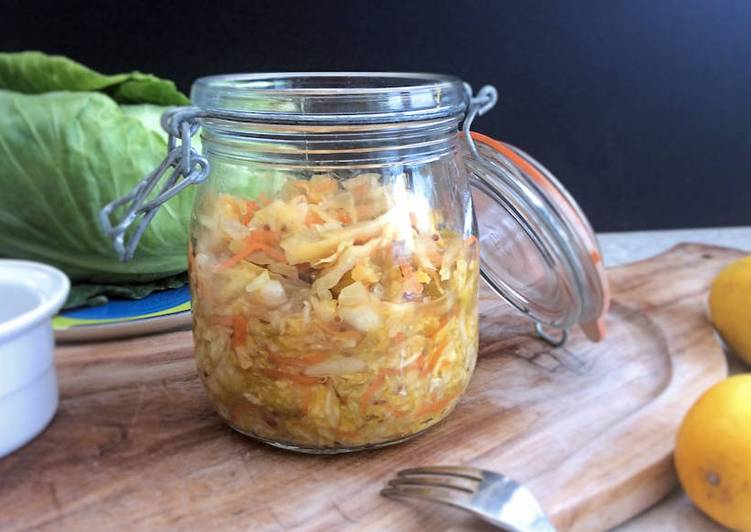 Sauerkraut
Kimchi's less fashionable relative (a little like a lesser-known Kardashian), sauerkraut is nonetheless my firm favourite.Full respect to kimchi, it doesn't quite have the comfy palatability of choucroute for European taste buds.
But I should be talking all about raw and fermented so I'm side-tracking. Recipes abound, everyone is fermenting like crazy and the reports of all those good bacteria doing wonders to our guts are making poor old sauerkraut blush. Ah, yes - you CAN make it with red cabbage, too.
The visions of heads upon heads of cabbage and special crocks (sic) necessary for the exercise are a vast exaggeration. A bit like making jam, you can shred barely a head with a couple of garlic cloves at a time and throw it in one medium sized jar - and it needn't even be a special pickling type. It's easy.
And it doesn't smell the house out, honest.
Rinse the spare leaf and press it into the jar on top of the cabbage – ideally there should be enough juice to cover it, the leaf is there to keep it immersed. Weigh the leaf down with a clean large pebble, a cup or a small bowl, anything that will fit into the jar. Leave it open but cover with a piece of muslin or a clean cloth.

After 24 hours check if the cabbage has not floated to the top, press it down again with the wooden spoon to get rid of any trapped air, recover with the leaf, bowl and the cloth and keep it in a cool, darkish spot. The fermenting will take between 1 – 3 weeks, depending on the season and the temperatures.
Add Step