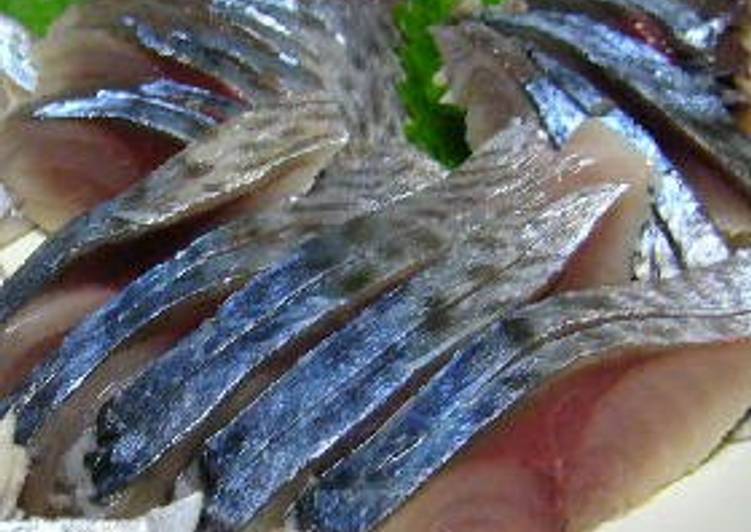 Standard Shime Saba (Pickled Mackerel)
Everyone has a different idea of what "shime saba" or cured mackerel means! Nowadays, it's usually thought to be pickled or cured mackerel.
It actually took me many years to realize this. The flavor of shime saba can differ depending on the state of the fish of course, but by adding some sweetness to the marinade it becomes more palatable.
Be sure to use fresh mackerel.
It took me way to long to come up with this method, which is actually pretty basic!
Even if you have a bit more mackerel than indicated in the recipe, you can use the same amount of vinegar and mirin.
How to tell if mackerel is fresh:
1. It has a nice color and is shiny.
2. The eyes are clear and unclouded.
3. It still has scales.
4. The guts are firm.
5. Try to buy locally caught mackerel. This means you should be buying it when it's not too windy.
The easiest way may be to just ask the store attendant if the mackerel is OK for preparing shime saba! Recipe by Tetsuamru
Filet the fish and remove the backbone. Be as thorough as possible in removing any fine bones using fish bone tweezers. You could also remove the fine bones just before eating, if you prefer. If you remove the bones while you're slicing the fish to serve, the fish will be easier to eat.

Salt the fish with a generous amount of natural salt. Arrange the fillets in a single layer on a tray or plate, and refrigerate for 1-2 hours. If you chill for for too long, the flesh will become tough. If moisture is produced from the fish as shown in the Step 4 photo, that's good!

Put 300 ml vinegar, 100 ml mirin and 5 teaspoons sugar in a freezer bag and dissolve well. Add the mackerel from Step 5 to the bag, and let marinate for 5-15 hours. The key is to eliminate as much air as possible from the bag. If you aren't going to eat the fish right away, remove it from the marinade, wrap it in plastic wrap; it should keep for 2 days in the refrigerator!
Add Step