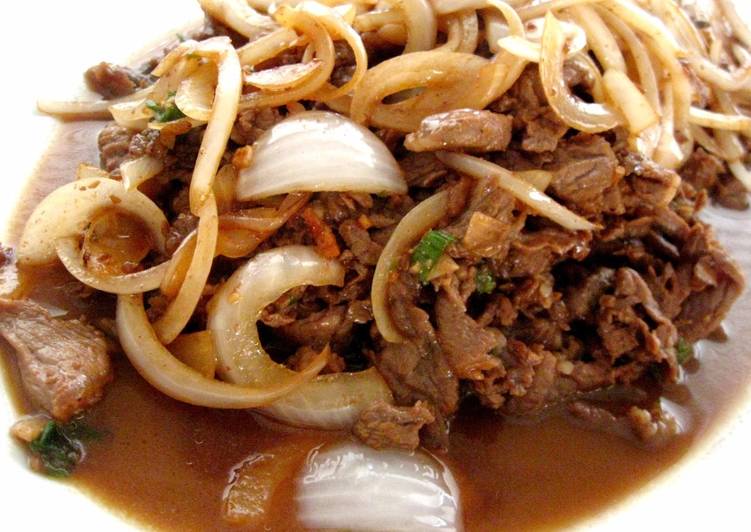 Bulgogi 불고기 (Korean "BBQ")
If I were to choose just one dish to ensure a Korean food virgin would return for more, bulgogi (pronounced BOOLgohgi) would be it.
Translated literally from Korean, it means "fire meat," which understandably lends the stuff to being called Korean BBQ, but Koreans actually cook the meat a variety of ways - pan frying/sauteing and steaming in a shallow broth among them in addition to open flame cooking.
The word also applies to a number of different meats and seasonings or marinades, but this particular version featuring beef, soy sauce, garlic, and sugar as the main flavor components is certainly the most popular one here in the US.
Umami from the soy sauce, savory from the garlic and onion, just a hint of nuttiness from the toasted sesame oil, and a touch of sweet...
I have yet to come across someone who doesn't love the stuff once they've tried it.
Koreans often use Asian pear and/or kiwi instead of the apple in my recipe, but apple is less expensive, more accessible, and totally effective for its purpose.
Combine all ingredients thoroughly in a mixing bowl and ideally allow to marinate for at least 30 minutes before cooking. For me, the best way to get all the meat evenly seasoned is to get in there with your hands and mix and massage to distribute all the seasonings thoroughly and evenly.

PAN FRY OR SAUTE METHOD: Cook the meat in four separate batches on an oil (about 1.5 teaspoons per batch) pan preheated to medium high, for 2.5 to 3 minutes, stirring occasionally to ensure all pieces are cooked. If you, like I, love onions, you can saute some 1/4-inch thick pieces of sliced onions with each batch.

GRILL METHOD: You'll need a grill basket or screen to keep the meat from falling through the slats. Spread the meat in a single layer and cook over medium high heat (and at least 5 inches above the goals or gas element) until the meat is cooked. 3 to 5 minutes per side, depending on the thickness of the cut and grill heat.
Add Step