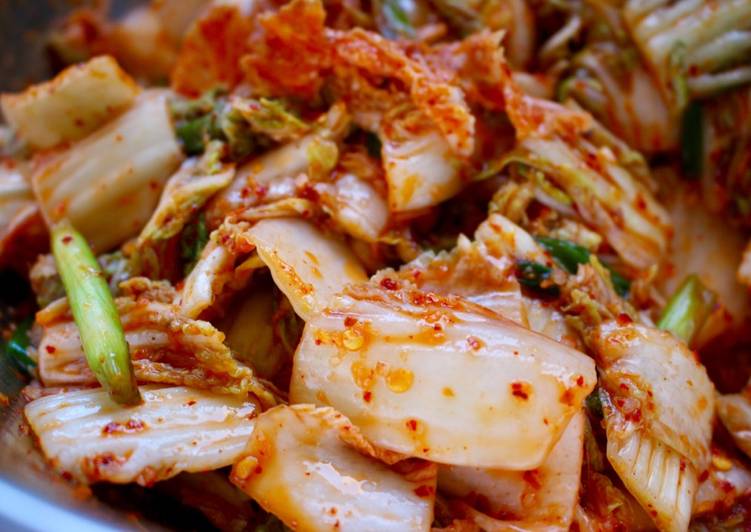 Kimchi (Easier than you think! ;) )
If you're intimidated by the idea of making your own kimchi, my recipe is exact, reliable, small enough, and tasty enough that you won't regret the effort. Plus it uses what are likely more accessible ingredients
- fish sauce,
- crushed chili flakes (like the kind you put on your pizza or pasta)
- steamed white rice
in lieu of the more traditional/typical
- brined microshrimp (saewoo juht),
- gochugaru (Korean red chili flakes), and
- sweet rice flour (chapssal garu)
that might be harder for you to get your hands on if you don't live a reasonable distance from a Korean market or don't feel like ordering those ingredients online, entire packages of which would probably take a long time for you to use up otherwise.
Choose heads of Napa cabbage that are dense and heavy for their size, which means the leaves are fresher. The best way to know if a head is heavy for its size is to pick up a few that are about the same size and feel their weight in your hands. If you, like my kids, hate the leafy green parts, look for the heads that have more stem than leaf, and a lighter yellowish green color to the leafy part rather than a darker green color.
If you have gochugaru and would like to use it, I'd start with about 1/3 cup gochugaru alone, give it a taste and add more before bottling if you'd like. Or if you'd like to use a combination, the kimchi pictured up top is using a blend of crushed red chili flakes and gochugaru - about 1/4 cup of each.
Add Photo

In a large stainless steel or mixing bowl, toss the raw cabbage, green onion, and the salt together to pre-brine the cabbage. Make sure to thoroughly incorporate the salt throughout the cabbage. In 10 to 15 minutes, you should start to see the cabbage leach liquid and wilt. Let the cabbage sit for 1.5 to 2 hours, tossing and redistributing every 30 minutes to ensure even brining.

Add Photo

Pack your kimchi into a clean, dry bottle or other tight-lidded container (this time I repurposed a half gallon kimchi jar) and use the last 1/3 cup of water to swish around the mixing bowl, pick up all the remaining paste, and pour that liquid on top of your kimchi. Remember to leave 2 to 3 inches of headspace at the top to allow for expansion as fermentation takes place.

Add Photo

Your batch of kimchi is now ready for fermentation in a dark but not cold place like the inside of your cupboard. Or, if you can find a warmish spot in your garage, you can put it there. (I know that's not always possible for cold climate people in the middle of winter.) As it ripens, it's a good idea keep the lid slightly unscrewed to relieve the pressurization caused by fermentation. (Your jar can literally explode from the pressure on a specially active fermentation day.)

Add Photo

People often ask HOW RIPE DOES THE KIMCHI HAVE TO BE BEFORE I REFRIGERATE OR EAT IT? You can eat the kimchi whenever you want. Fresh, just after it's been made, all the way up to when it's so incredibly old, ripe and stinky you could choke out a subway system by placing an open jar in one of the vents. It remains safe for human consumption for A VERY LONG TIME.
Add Step