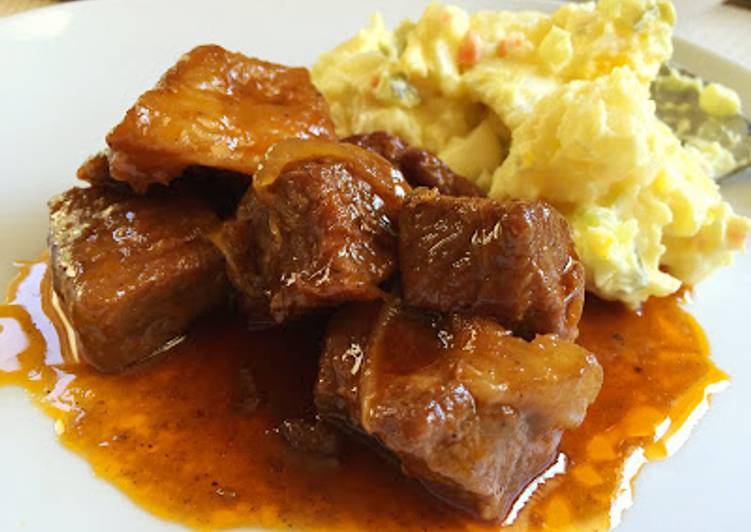 BBQ Sauce Braised Pork Shoulder
I came up with this dish when the Hubbalicious was feeling something simple and BBQ-ish. Threw together some pork shoulder, the last of the accumulated BBQ sauce leftovers from Hub's rib smoking adventures, the last onion of last week, and some other odds and ends.
Sometimes when I make things with a fatty cut of meat, people will ask if they can substitute it with something leaner. Well, you can, and it'll still be ok, but there is something so truly delicious about BBQ sauce that gets caramelized with pork fat. And the texture is so much more tender, too.
With this kind of preparation, I'd rather eat a little less of the fatty pork shoulder than double the serving of a leaner cut, but that's my porkfat lovin' preference. :P
If you don't care for pork, you can also make this with boneless, skinless chicken thigh meat cut into slightly larger pieces.
Season the pork shoulder cubes with the salt, pepper, onion powder, and garlic powder. I like to sprinkle the seasonings over the entire area of the meat so it starts out already well distributed before I give it a few tosses to make sure it's even more evenly distributed. (I also like to just do this right on the cutting board after cutting and save myself a dirty dish.)

At that point, turn the heat down to medium low, give the braise a couple of stirs, and simmer, completely covered, for 30 to 35 minutes, stirring occasionally. If you can scrape any burnt solids from the bottom of the pot during this process, your heat's a little too high, and you should adjust it down slightly.

Remove the lid and continue to simmer for another 15 to 20 minutes to allow the liquids to reduce and concentrate in flavor, stirring occasionally. About halfway into this last simmer period is when you should taste and adjust the seasoning for more salt and/or spices if you like. This will give the added seasoning time to meld. Always increase salt and spices in small amounts - you can always add, but you can't subtract.
Add Step