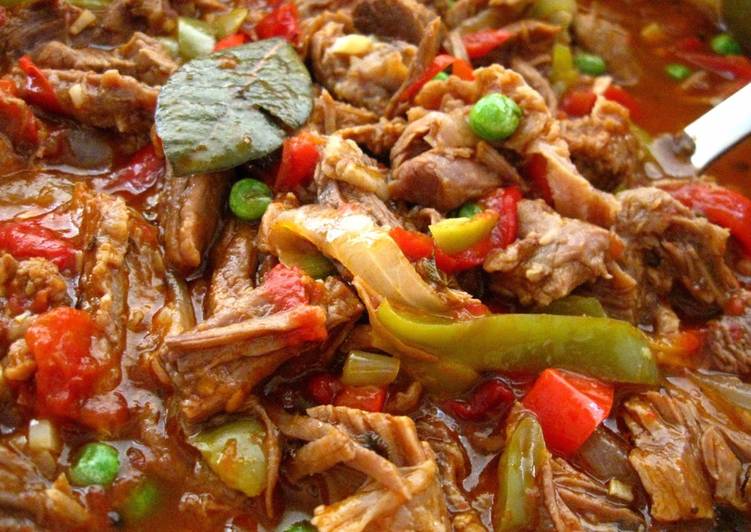 Ropa Vieja (Cuban Style Stewed Shredded Beef)
Ropa Vieja (ROpah vee-EH-hah) translates literally from Spanish as "old clothes," so named because you cook the beef, then shred it up, like tattered old clothes.
And with flavors of slow cooked beef stewed in a rich sauce of onions, tomatoes, peppers, garlic, cumin, bay, and oregano, it's no wonder it's among the best loved dishes in all of Cuban cuisine.
Some recipes call to braise the beef first with all the flavorings and then shred. I prefer to boil the beef first, cool and shred, and then stew it with all the seasonings. I find it cooks up more tender this way. There's not that much active time to make the dish, but it does take about an hour and 30 to 45 minutes from start to finish. The part where you boil the beef can be halved by cooking it in a pressure cooker for about 30 minutes, if you have a pressure cooker.
Serve with steamed rice (in Cuban cuisine, they usually add a little salt and oil to their steamed rice). Alternatively, it would also be delicious over risotto or polenta.
Leftovers are great in tacos and burritos. Use a little less liquid, and it makes a delicious empanada filling.
Add Photo

Put the beef, the ½ onion, carrot, celery, and four garlic cloves in a 4 or 5 quart Dutch oven, pour in the water, cover the pot, and place over high heat, until the meat comes to a rolling boil (about 15 to 20 minutes). Then turn the heat down to medium, keeping the pot completely covered, and continue to boil the beef for another 40 to 50 minutes, or until the thickest part of the largest piece of beef is very easily pierced with a fork.

Add Photo

While the beef is boiling, do all your knifework and set aside. When the beef is boiled, remove all the pieces from the liquid and cool for at least 20 minutes or while you prepare the base of the stew. Save 2 cups of the liquid in a mixing bowl or other container. You can discard the rest, or save it, like I do, to use as soup or sauce stock.

Add Photo

Add in the cumin, oregano, black pepper, and bay leaves and stir to distribute evenly. Then add in tomato paste, canned tomatoes, boiling liquid, 1 ½ teaspoons kosher salt, and ½ teaspoon sugar, and stir to completely dissolve the tomato paste into the liquid. At this point, your beef should be ready to shred. Remember the turn the heat off while you shred. :)

Add Photo

Loosely shred all the beef (it doesn't have to be a fine shred, unless you insist on it that way, but it is a little more work. Besides, the simmering will continue to separate the meat fibers a little more.) and put into pot with the stewing liquid. Turn the heat up to medium high and stir to incorporate thoroughly.

Add Photo

Remove from heat and let cool for at least 15 minutes (this will give the flavors time to set and the sauce time to thicken). If you're adding frozen peas, right after you cut the heat is when you would fold them in. Adding them in at the end helps them retain their texture and color better.
Add Step