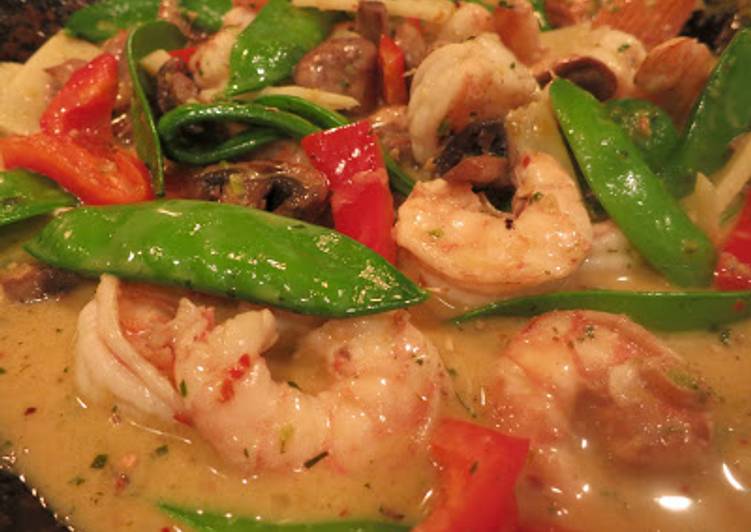 (Hotter Than It Looks) Thai Curry Base
On the night this recipe was created, we had shrimp, shrooms, and snow peas with which to make dinner, and Hubbalicious said he wanted something spicy, to which I mused aloud how I've noticed that people who tend to say, "Oh, that's spicy!" in response to eating something hot usually don't have a high tolerance for capsaicin heat.
To which he responded, "OK. Make something HOT."
So I did. :P
WARNING: For most people, this recipe will be unbearably HOT. You can easily turn down the heat by reducing the chilies. If you've a mild palate, start out with one fresh chili - maybe even a milder one like jalapeno - seeded and deveined and 1 teaspoon crushed chili flakes.
I was originally going to write this up as a complete recipe including the proteins and veg (which I do outline for you further down this post), but I realized this morning that this makes a good and adaptable base to which you can add whatever proteins and veg you fancy.
Add 4 or 5 cups of unsalted chicken, seafood or veg stock, increase the salt and lime to taste, and you'll have a delicious soup!
Add Photo

Add in your protein and veg and bring the curry back up to a boil for a minute or so, turn the heat down to medium high, and let it simmer, uncovered, for 5 minutes, or until your protein is cooked through. Bite sized pieces of seafood will take no time at all (3 to 5 minutes), white meat chicken a little bit longer (5 to 7 minutes), and dark meat yet longer (7 to 10 minutes).

Add Photo

For the curry in this pic I used: 1 pound shrimp, peeled and deveined (I used 31/40 size), 1/2 pound button or crimini mushrooms, 1/2 pound snow peas, 1/2 red bell pepper cut into 1/4-inch strips, and an 8 oz can (the short one) of bamboo shoots, drained. But you can of course use whatever veg you like and have handy, following the general measurement guidelines of 1 pound of protein and 1 pound of veg for 4 servings.
Add Step