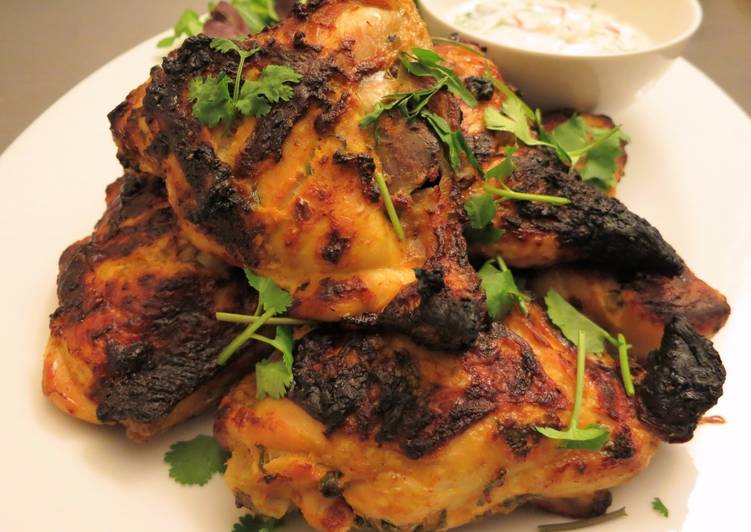 Viet-Inspired Tandoori Chicken
Ever since I learned how to make Tandoori Chicken, I've been a big fan of using yogurt in chicken marinades. In the right proportions and marinating times, it subtly tenderizes the meat and enhances its natural flavor, texture, and juiciness without imparting yogurt flavor.
This variation on Tandoori Chicken is inspired by the cuisine of my Little Asian Mama's people. ;)
If you buy drums and thighs in your typical supermarket pre-pack, it's likely that your chicken pieces are on the bigger side and will require somewhere between 50 to 55 minutes. A great thing about the yogurt marinade is that it is quite forgiving, and you don't have to worry that the extra 5 minutes of roasting time just to be safe is going to dry out your bird.
I like to serve the chicken sprinkled with chopped cilantro with a simple side salad of Spring Greens, mangoes if they're in season, and a quick raita made of equal parts hanh dam (Vietnamese quick pickled onions) and yogurt plus a good pinch of salt and chopped cilantro, which balances out the meal and ties the Viet-Indian fusion flavors together nicely.
Add Photo

Place the chicken in the marinade and mix gently but thoroughly to evenly season each piece. Cover the bowl & place it in the fridge to marinate for 6 to 24 hours, redistributing the chicken 2x during the marinating period to ensure even seasoning. Or you can put it all in a gallon capacity Ziploc bag, lay all the meat in a single layer, suction all the air out of it, and lay it on its side in the fridge. You can flip halfway through to ensure even seasoning.

Add Photo

An hour before cooking, take the chicken out of the fridge and lay it in a single layer on either a sturdy sheet pan (not a cookie sheet) with a grill rack over it (my preferred method), or on a broiler pan with slats, skin side up, and let it come up to room temp. I mention this often, but bringing your protein up to room temp results in a better outer sear, which results in more internal juiciness.
Add Step