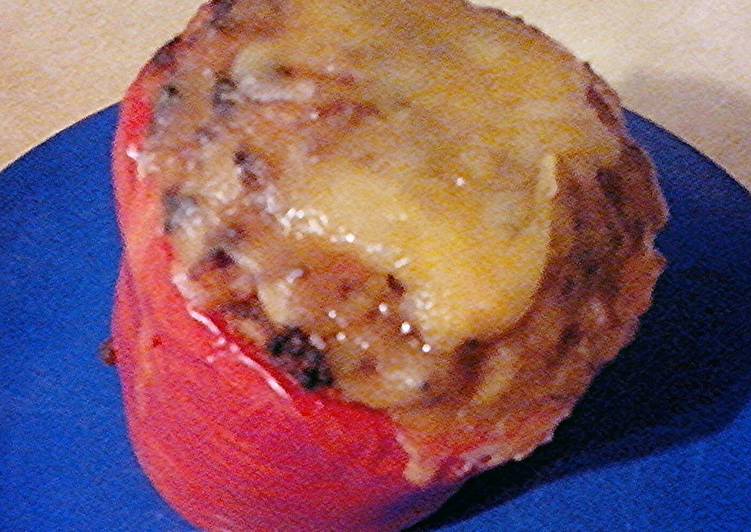 Stellar Stuffed Bell Peppers
Everyone knows stuffed peppers, practically everyone has made stuffed peppers. This is just the way I've made them my own. Using condensed tomato soup versus simply tomato sauce really brightens the flavors. It brings in a sweetness that I've always thought was missing before, but you could always go with the old standard. I would just leave the heat on and simmer with all ingredients except the rice for about 5 minutes to cook out some of that "raw tomato" flavor tomato sauce tends to have. I began par-boiling because it seemed the peppers would never cook quite as much as we liked especially if they had thicker walls, which meant we'd have to bake for too long and then they'd end up mushy. It has an added benefit of reducing potential shrinkage of peppers during cooking which means no filling spills out. You can certainly skip this step of you like a crisper pepper or want to save time.
While waiting on water to boil cut tops off peppers. Use tops (without stems) to chop and reserve 2tbs for later. Remove seeds and clean up insides of peppers. If your peppers can't "stand up straight" trim the bottoms just enough to create a flat surface without cutting a hole through the bottom. Then, fill a large bowl with ice and water (this is their "ice bath").

Gently place peppers in boiling water, submerging completely. Let boil for 1-2 minutes. Gently use a slotted spoon or tongs to remove peppers from boiling water, allowing excess water to drain back into pot, and transfer to the prepared ice bath immediately, submerging completely, to stop the cooking process.
Add Step