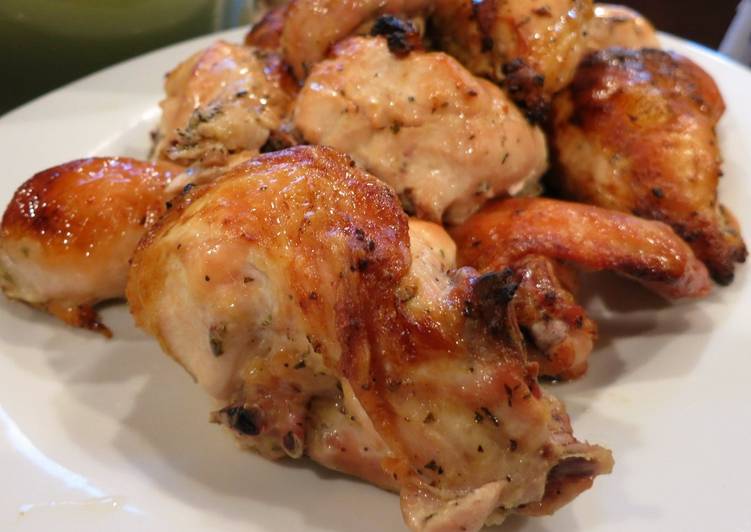 Simple, Easy, Delicious Lemon Garlic Roast Chicken
Lots of people go to great lengths and expense to learn how to make a perfect whole roast bird. But unless I want to make a presentation of carving, I prefer the result of roasting individual drums, thighs, whole wings and half breast pieces (breast meat cooks much more quickly than dark) - lots of crispy chicken skin, great flavor, uniform cooking, and I get all the carving mess out of the way on the front end.
If you're tempted to ask how to make a boneless, skinless version of this dish, don't. There is no joy in roast chicken without the flavor from the bones and the indulgence of perfectly browned and crispy chicken skin. :)
The recipe takes about 2.5 hours TOTAL, but active time is more like 20 minutes. (10 to 15 minutes to season, 1 to 5 hours to marinate, 45 minutes to roast.)
Mix all the ingredients together thoroughly in a large mixing bowl with your hands (it's difficult to ensure that each piece is thoroughly and evenly seasoned if you don't get in there and do it by feel), and make sure each individual piece of chicken is coated in the seasoning. Marinate for at least an hour and up to 4 or 5 hours in the refrigerator before roasting.

45 mins before roasting, take chicken out of the refrigerator and place in a single layer, skin side up, on a broiler pan or other large high oven temp safe vessel, giving each piece of chicken at least a 1/2-inch clearance on each side, and let it come up in temperature before cooking. For best results, place your chicken on a rack that allows for drainage. The more dry heat that reaches the surface of each piece of chicken, the better the sear, the crispier the skin, and the juicier the meat.
Add Step