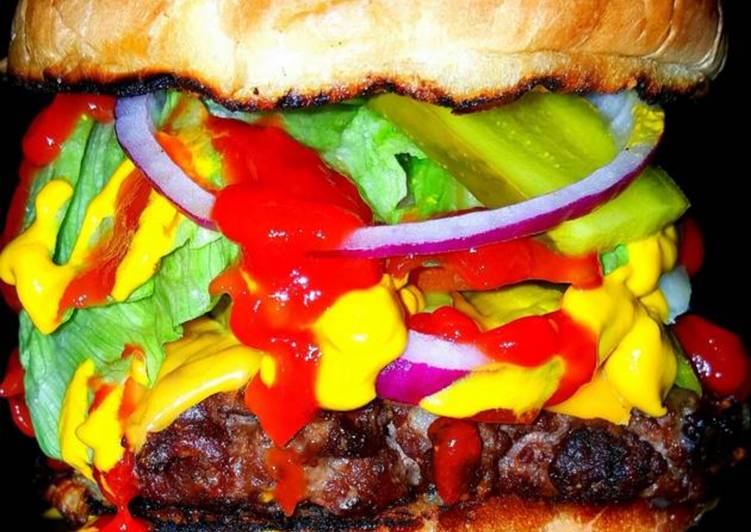 Mike's 1 lb Juicy Grilled Burger Palooza!
It's the weekend so tonight was once again, "Dealer's Choice," for all of my tiny 7 And 8 year old students! It was grilled hamburger night and their only requirement was to build a juicy, delicious, totally imaginative burger.
I put out just about every ingredient you could possibly imagine for them to create a memorable, one of a kind, crazy fantastic juicy burger. I left it up to my students to decide exactly what they wanted and, left them to their own devices. [other than the grilling part - apparently kids catch on fire pretty quick ..... who knew?]
Anyway, there were countless submissions - as it was a class of 23 children. In the end, over 40 pounds of ground beef was ultimately grilled. I've listed some of the most creative and delicious burgers they prepared. Pictures to appear shortly once edited!
Featured is an 8" tall submission by one of my 8 year old students. She dubbed it, "The Onion-ator!" It's a cheese and sautéed onion topped Lipton Onion, cheese stuffed Juicy Lucy with all the chilly garden fresh trimmings! Man, was this sucker juicy and beyond delicious! Excellent work Ryder! You know you're the reason your mother is now wearing sweatpants right? 😆
Add Photo

Most all burger entries were 1 pound + and created Juicy Lucy style, aka, "stuffed." Here were some of their more creative submissions. ● The Big Ranch Ranchero ● The Big Gouda Budda ● The Big Blue ● The Pesto Basil with Mozzarella ● The Jalapeño Popper ● A[pork]alypse Now ● The Swiss with Roast Beef & Broccoli Rob ● The Big Brie ● The Blue Cheese Breeze ● The Provolone Pounder ● The Asian Invasion ● The BBQ Pork & Cole Slaw Slammer ● The Big Easy Cheesy ● The Burly Bacon-ator ● The Southwestern Pound Pile ● The Fried Egg-inator ● The Crabby Patty ● The Onion-ator ● The PB&J Graceland ● The Munster Monster ● The Vampire Slayer and of course, "The Pig-vicious!" Made with 1/2 beef - 1/2 Sausage with thick cut apple bacon and pulled pork!
Add Step