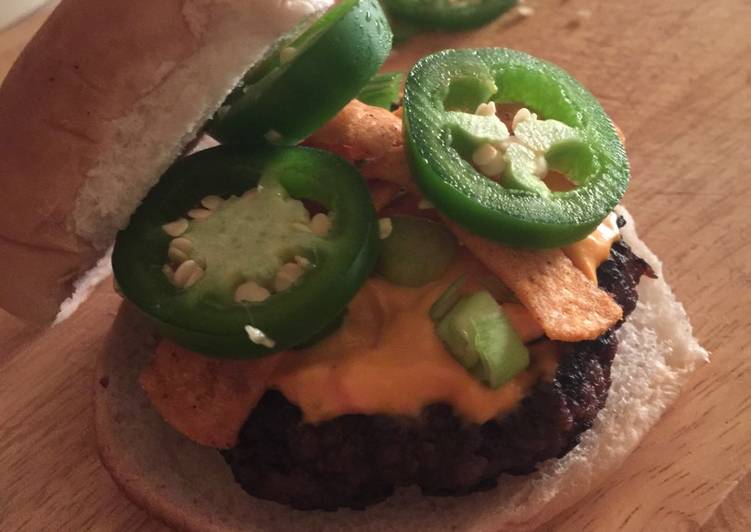 The Stoner Patty Melt Burger
This recipe was invented as so many of my others were. Wanted to cook something but not go to the store, so I used what I had in the house. This one turned out to be something I still make. I've been told it's a perfect stoner food, so The Stoner Burger was born! I can see why. Powerful flavors and a variety of textures. Also quite simple. Hope you like em as much as I do!
Add Photo

Mix ground beef and the spices, honey, bbq sauce and breadcrumbs together well in a bowl with your hands. I used honey as a binding agent since I didn't have an egg. Anything sugary burns quick, but it turns out to be a benefit to this burger. Form 6 equal portions of the meat and smash them into patties. About 1/4 inch thick works.

Add Photo

Place patties in a preheated pan and cook for maybe 2 minutes on each side. That's why we want them thin. If they needed to cook any longer they'd burn because of the honey. Since they're thin, they get a nice char on the outside while staying medium- medium well inside with a short cook time.

Add Photo

Just before taking them out of the pan, spoon some salsa con queso onto them. Remove to the bun. Order of toppings is important for these. Once the patties are on the bun top with the green onion. The cheese keeps the little bits in place. Now the Fritos on top of that. Then the jalapeño slices. (If you don't want them super spicy make sure all the seeds are out of the jalapeños. I like spicy so I just slice and serve) On the bun top, put a thin smear of the brown mustard. This adds just a little extra something but you don't want it to overpower. Serve with chips, fries, tater tots I dunno haha or just eat em on their own. Make em for the weed smokers in your life, I promise they'll love you forever maaaan!
Add Step