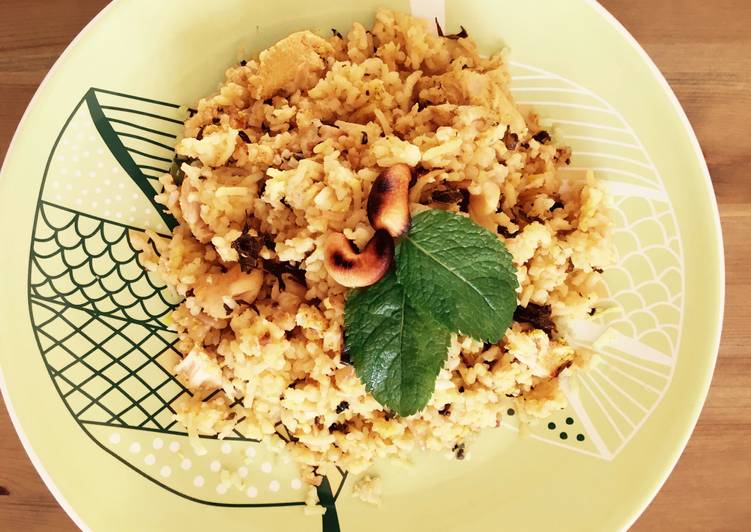 Chicken Biryani
Biryani is a dish originally from South Asia consisting of rice with meat/ fish/ vegetables and various spices. The word Biryani from biriyān meaning 'fried, grilled'.
It is made from par boiled rice, which is then mixed with the other ingredients, sealed and put on "dum" (a very low heat, so that all the flavors inside the pot amalgamate well) for at least 45 minutes.
Chicken Biryani is by far the most popular Indian rice recipe around the globe.
Biryani Masala Powder is a spicy mix used to prepare fragrant Chicken-/ or vegetable Biryani rice. Nowadays you will find ready made powders and masala for Chicken Biryanis, but preparing a home made masala is very easy and authentic.
This recipe will show you how to first make an authentic Biryani Masala Powder. Once we have finished making the powder, we can start to marinate the chicken. This recipe is suitable for a Mid Spicy Biryani and has a good moderate aroma of spices. If you wish to have a mild tasting Biryani just leave out the red chillies. This powder-mix serves up to 3 Biryanis. To retain the aroma of the Biryani Masala Powder, you can portion small packs of foil in freezer and use when needed. This then lasts up to a year.
There is nothing worse than putting in all your 2 hours effort this dish requires and then getting the bottom of the casserole slightly burned. Which is exactly why you will need a solid heavy casserole for making biryani. Check here.
Please don't get intimidated by the long list of ingredients....
Add Photo

Rinse rice till water runs clear and then soak for 30 minutes. In a pot heat 3 cups of water. When water starts to boil add oil, dry spices as given in 3. Step as well as salt and cook for about 4-5 minutes until aroma is released. Now add soaked rice and cook for max. 5 minutes(rice should be 3/4 cooked). Drain water and keep aside.

Add Photo

Take a fresh kitchen towel and soak in water, squeeze tight so that it is moist and not dripping in water. Fold towel to a double layer and spread over the the rim of the casserole. Now cover the lid on casserole. Set to cook on medium flame for exactly 20 minutes. You will see the vapor rising.
Add Step